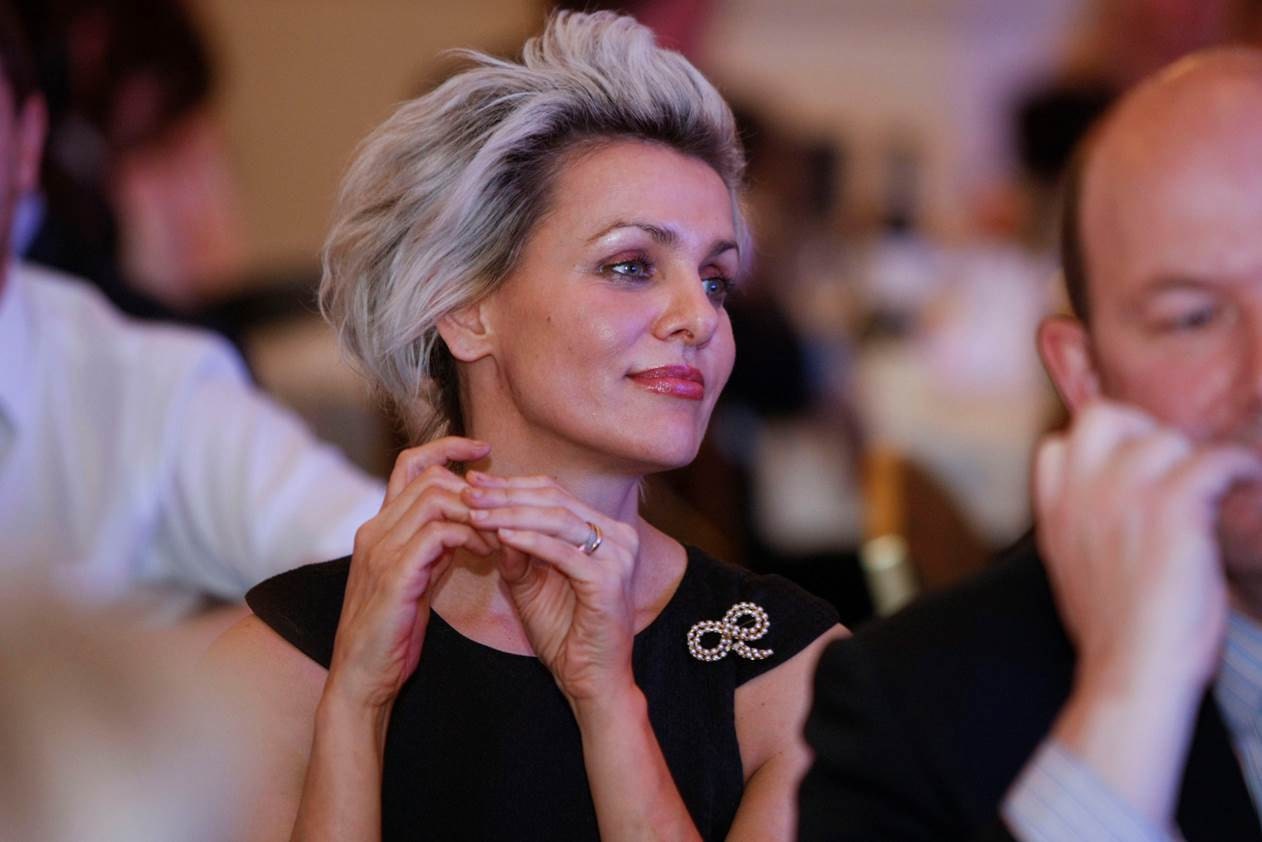 Well, after careful thought, I'm taking the plunge and writing my first blog.  As a professional PR consultant, with over twenty years' experience of promoting all manner of highstreet fashion, beauty and lifestyle brands, I've spent an entire career promoting other people's products, services and business profiles. You would think, therefore, that this would be a piece of cake.  
Not so!  I've always stayed behind the scenes in my career; PRs like me facilitate ways to make clients shine, whilst discreetly lurking in the shadows themselves.  
The picture above is "PR ME" I was at a property industry awards do and was lucky enough to win some gongs myself - hence the serene expression.  I don't normally look this poised, but I wanted to make a good first impression.
I now find myself in an exciting new phase in life, which requires me for the first time ever to to sell myself, well, not "me" literally...my furniture, my passion.  
So here I am introducing myself, albeit with an intrepid heart.  I'm a cynical soul and my instinct is to say to myself (and others) "Who cares? Who's going to read my blog?"  
So what's the story? Well, over the years, I've worked with a fabulous array of clients within the creative industries - top make up artists, hairdressers, designers, interiors and property companies.  Along the way, I've absorbed a hotch-potch of ideas, inspiration and a deep love for the aesthetic.  
Eclectic interiors, sumptuous wallpapers and textiles, opulent spaces, bohemian style...I'm a natural-born maximalist. 
I started up-cycling vintage furniture for my home, partly because I'm too tight to buy on the high steet and partly because I hate owning mass-produced, eat the world, soul-less items which half the population also own.  I wanted quirky and individual, well-made pieces which I could actually afford.
Like many others before me, I found the hobby taking over...and over!  Much to my amazement and joy - other people started asking me to create pieces for them. The rest is, you know, history. 
Up-cycling vintage furniture is what I choose to do part-time, and recently I've been lucky enough to have been invited to display my work in some amazing retail spaces local to me - including Farrow & Ball, Sofas & Stuff and Rif Raf in Manchester.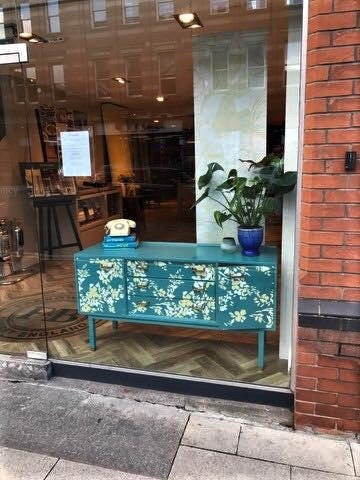 Integral to this blog, however, will also be the effect up-cycling has had on my mental health and well-being.  For me, it's much needed free therapy. 
I call it my "Up-Cyclatherapy"- definitely a made-up word, but its physical effects are real and profound.  It's not a miracle "cure" - I will always be "work in progress" -  but it's the nearest activity I've found which helps me to calibrate the best version of myself without resorting to high doses of anti-depressants.  More of that later...
To be honest, even pre-children, when I had a decent disposable income, I was forever ferreting and foraging about at markets in search of bargain interior pieces to luxe-up my palace on pennies not pounds. My parents were fairly well-off, but frankly frugal, therefore I blame them for my DIY DNA.  My military father had me sanding and painting our Elizabethan cottage from an early age. As young as nine or ten, I was earning pocket money stripping paint.
This blog on-going is intended to be a channel through which to share the highs and lows of embarking on this career diversion in my late 40s, and obviously chats about up-cycling, decoupaging and adorning of furniture in general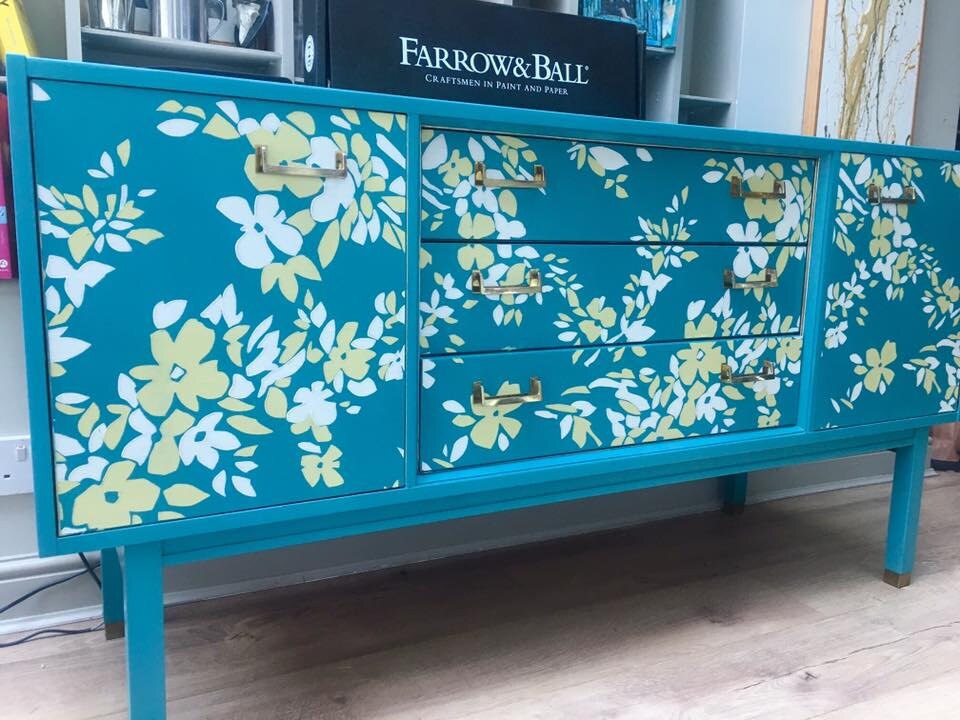 I want it to be helpful, honest, informative and above all, real. I may need reader feedback to achieve those goals!
I'll mostly be talking about:   
My own furniture discoveries 
Good places to source them  
Design influences 
Tips on what works based on trial and error 
Materials, tools and products I like that work  
To invite other like-minded souls to share their wisdom and creativity.       
It all started with the birth of my first son, Archie, now 15, who due to a premature and traumatic birth, gasped into this world with a serious brain injury.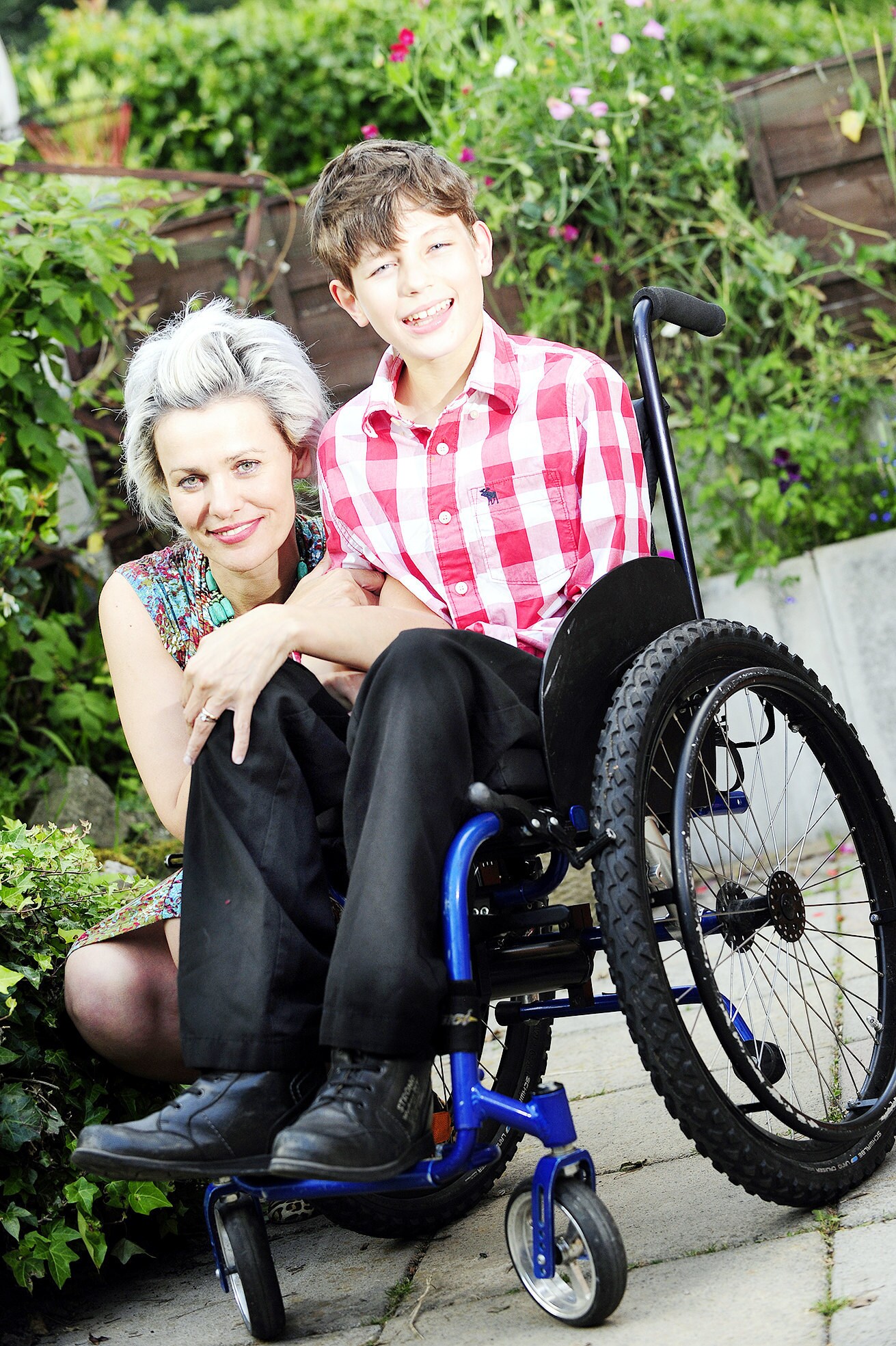 Soon after, he was diagnosed with Cerebral Palsy and complex learning difficulties. His disability broadly puts him into the category of "Special Needs" - a laughably generic term, so massive it covers every conceivable condition, while telling you nothing meaningful about the individual.   
Following Archie's birth, I developed for the first time in my life, symptoms of depression. Where once I was buoyant, bullish, robust and in control, I was suddenly thrown off course, torpedoed into the unfamiliar and frightening world of Special Needs parenting.   
I was no longer the mistress of my own destiny and it forced me on a journey I never conceived I'd have to navigate. 
Dreams of gliding effortlessly into Yummy-Mummy-hood evaporated into a fog of confusion, fear and gut-wrenching NHS appointments, all of which involved my son being peered at and prodded by a myriad of health professionals.  
His prognosis at 18 months was pretty bloody bad: he may never walk or talk, and he may have chronic seizures - for life.  The crashing prospect of this future reality totally overwhelmed me and I'm not ashamed to admit I spiralled into bouts of deep depression, insomnia and anxiety.     
15 years down the line, I should tell you that Archie has exceeded all expectations...but yes, he is still severely disabled.  He is truly fabulous though...a beautiful boy who walks, talks and is very funny. Everything, every day is a struggle for him, but he soldiers on and inspires me to value the little things.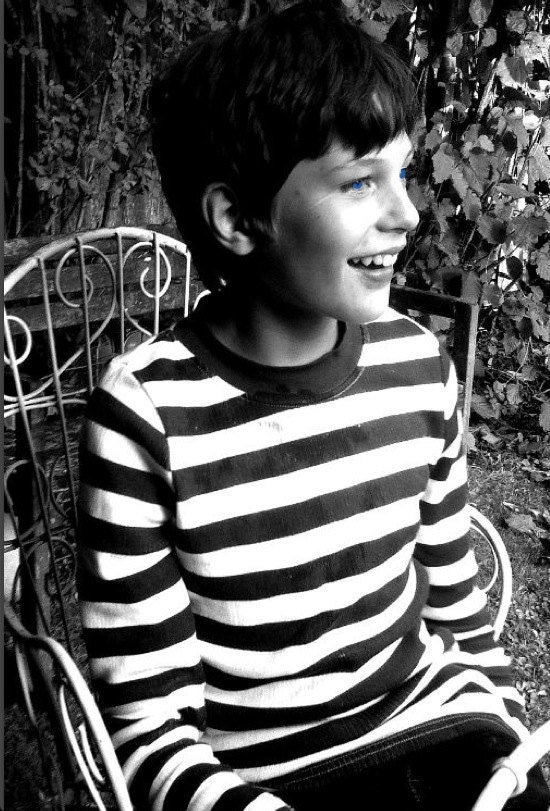 Like so many others on their own mental health journeys, I try to deal with The Demons!...
This has encompassed many experimental pursuits, and for the last 15 years, I've flirted with yoga, running, ceramics, power-walking up steep hills, anti-depressants, herbal remedies and traditional and alternative therapies, and some or all of them in combination have helped transport me back to my former, antenatal state of wellness.  
I still smoke fags and I love a few glasses of red or G&T.  I also swear like a trouper. Well, we all have our vices!...
The chemical route is still helpful for me, to be honest - but frustratingly dulls the senses in large doses. Being honest, I'd be quite happy to wander about in a cloud of heavy-duty anti-depressants, but I just can't function efficiently at those levels.
I also want to add that I still retain some very rewarding PR clients on a freelance basis, but I work from home to accommodate Archie's needs (and those of his brother George, aged 10), and, of course, my love of reinventing vintage furniture.    
When I'm not copywriting and meddling in media relations, I'm up-cycling what many others regard as tatty, dated, unlovable furniture.  
This is now an integral part of my week. Stripping back a piece and carefully applying a wonderful paint and paper combination, so that, to me at least, it becomes something contemporary, desirable, pretty, covetable. Seriously, the allure of it is semi-transcendental, its detail-oriented demands utterly absorbing. 
It takes me outside of myself and makes hours and minutes pass at the speed of light. I love glamour, adornment, sparkly, pretty things, people and places.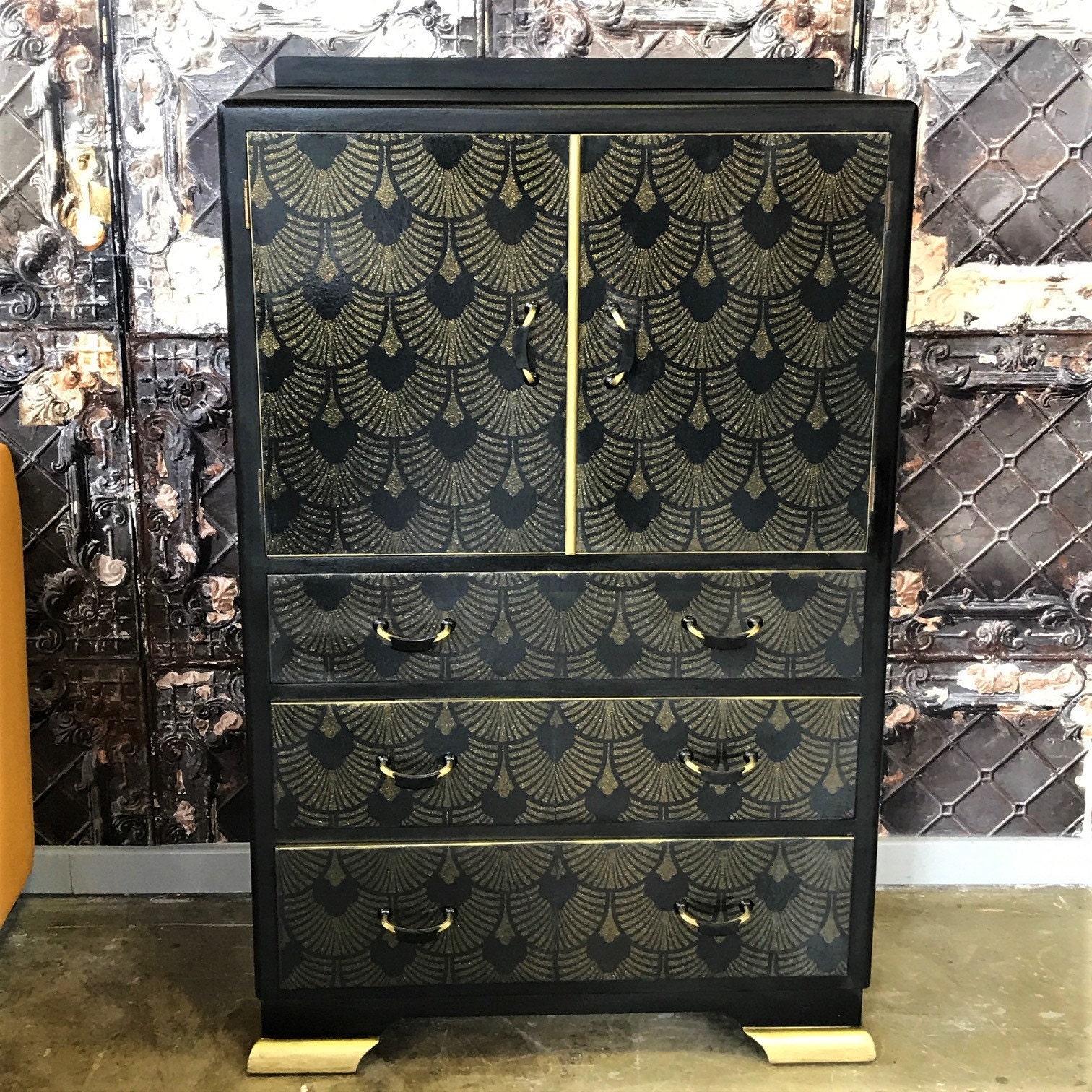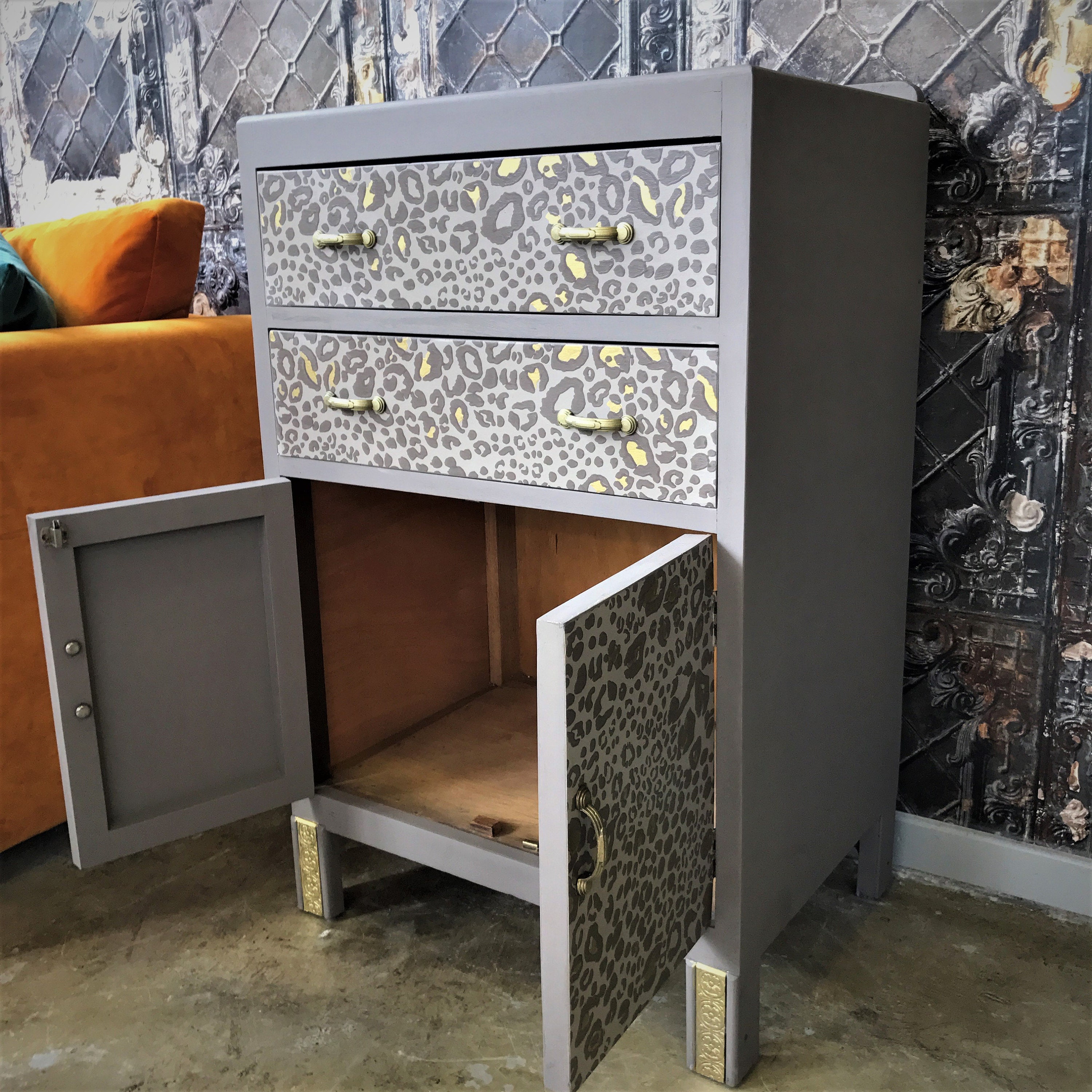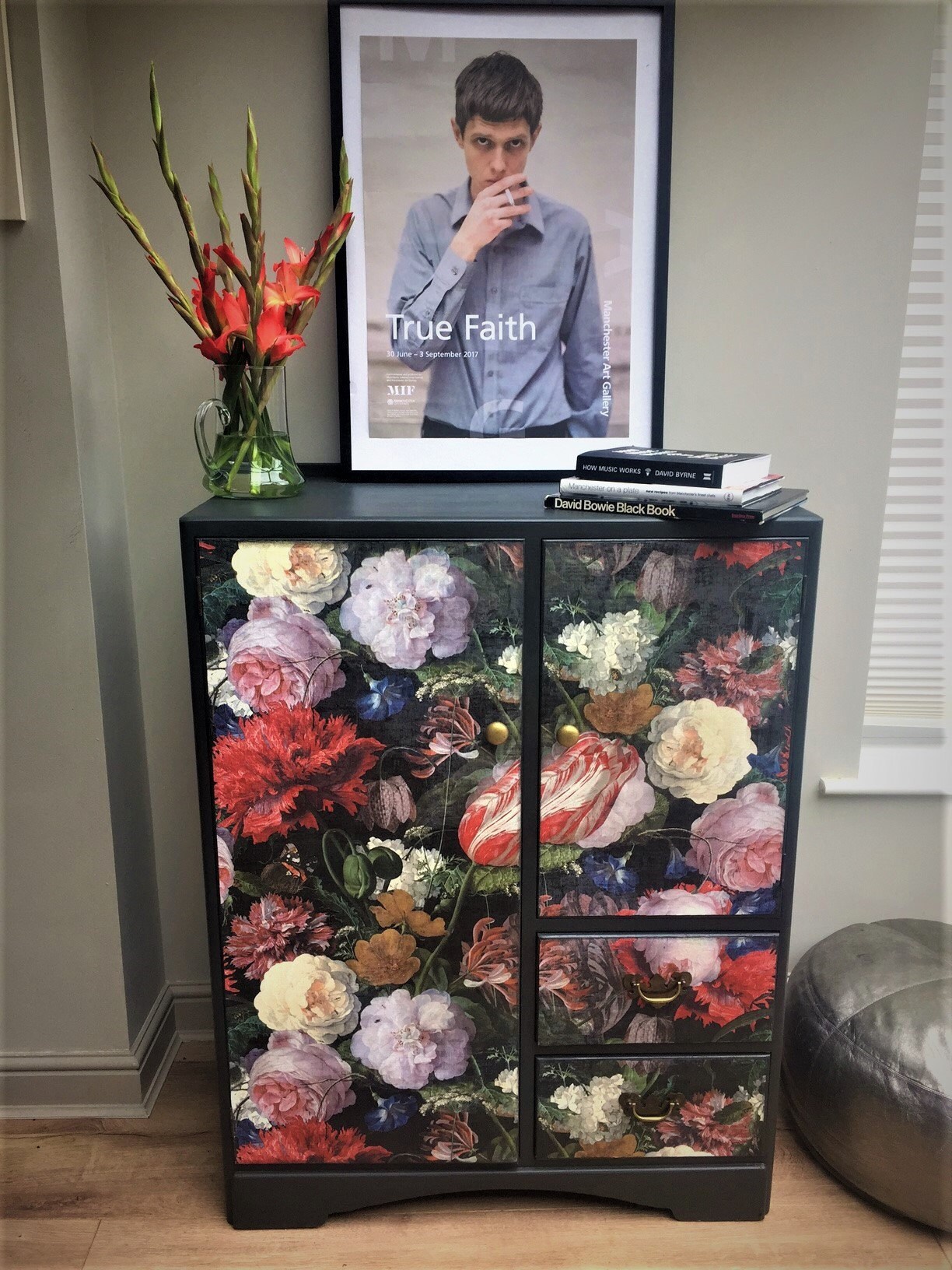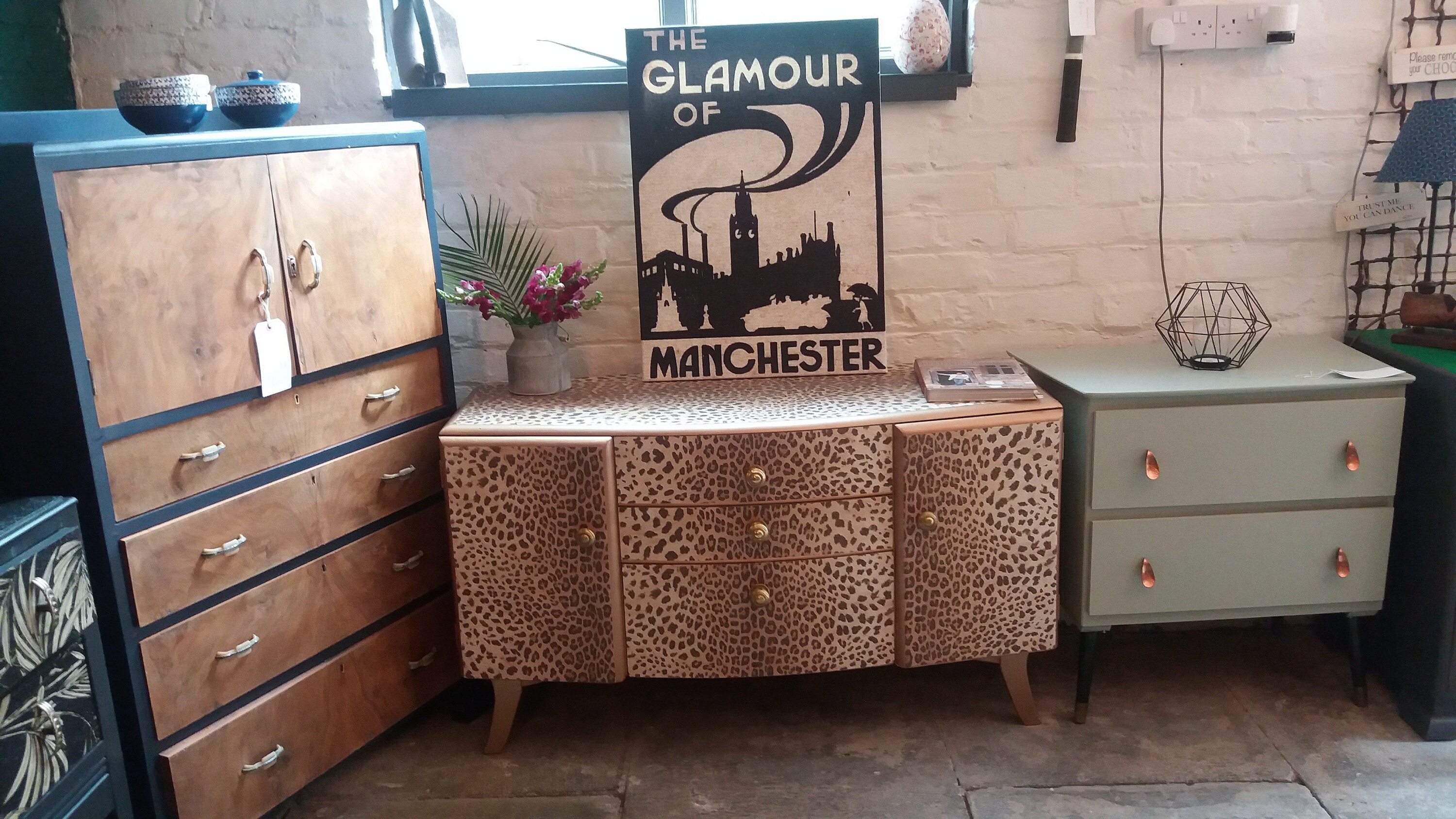 t
Ultimately, the motivation to dedicate more time to up-cycling has been driven by the discovery that indulging in the right creative outlet can help manage depression and anxiety.
Ignited by my son's medically defined "special needs" - the process has led me discover that I, too have special needs of my own.       
If you've read all of this, I thank you from the bottom of my heart.  Life is busy, time is short, money is tight and you've got your own sh*t going on!
Until next time!
Sarah x
RelovedMCR