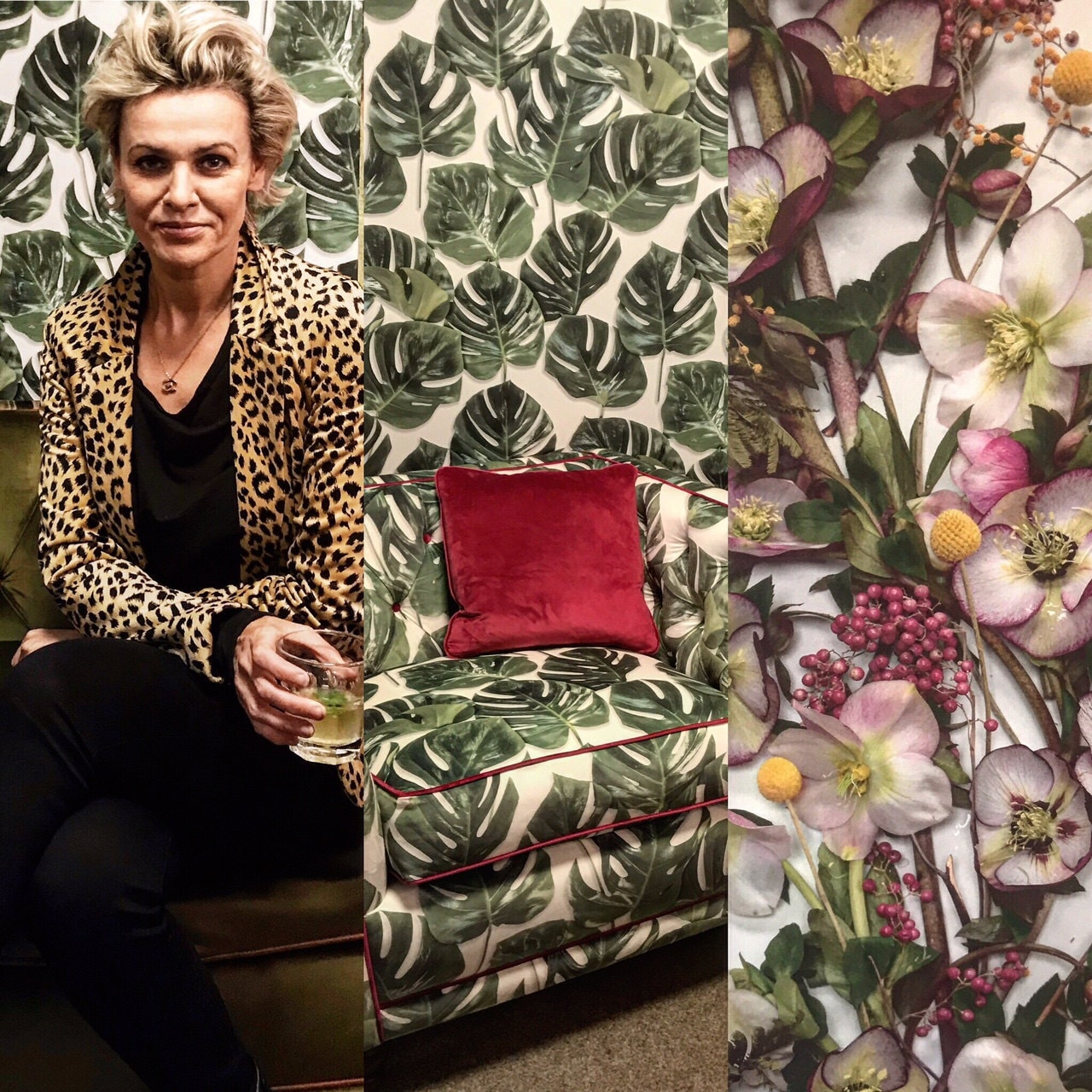 Looking quite serious in my new leopard print jacket, whilst necking back free proscecco based cocktails at the launch of Woodchip and Magnolia's fab new wallpaper designs at my local Global Interiors, Bolton. 
Well, it's a little over a month since my debut blog post, and according to convention, I believe it's about time for a follow-up! Heartfelt thanks, by the way, to those who read it but also messaged/called me with noises of general encouragement - very much appreciated.
If you didn't read it, I'll summarise its content, enabling you to swiftly decide if you can be arsed checking into this one! In essence:
I talk about my love of up-cycling vintage furniture to improve my mental health/manage depression: I've coined it "Up-Cyclatherapy." It's not a new phenomenon - artistic and creative pursuits are well known for their therapeutic powers - however it is a new word! 
I introduced Archie, my 15 year old son, who has Cerebral Palsy and complex learning difficulties, to give a context to the source of my highs and lows
I promised to keep the blog upbeat, but real, and share some of my up-cycling tips for those who fancy giving it a go themselves. Stuff such as where I source nice pieces of furniture, materials I use and recommend, trends I really like and have identified etc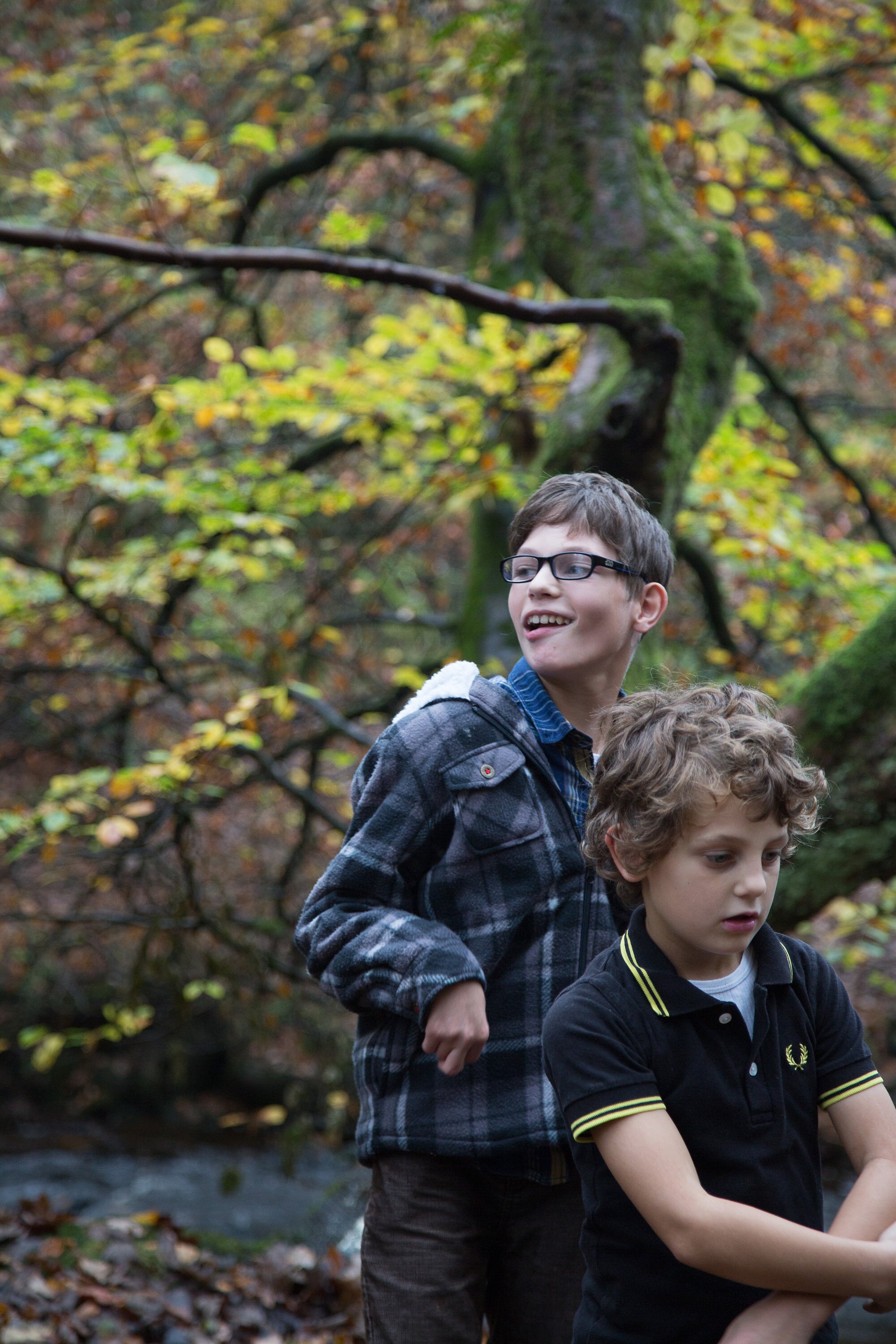 Here he is, the little bugg*r!! Archie, 15, with his gorgeous, cheeky little bro, George, now 10.
If you're still here, I thought it might be nice to get straight into some practical, roll up your sleeves-style content. 
Today, I am mostly talking about... 
SASSY SOURCING!!
I live in Greater Manchester, a land rich in fabulous furniture clearance and charity shops! I personally prefer shops which specialise in furniture, as opposed to generic charity shops with the odd piece thrown in. Not that I don't love "sell-everything" charity shops! Of course I do! But speaking from the perspective of someone who is ALWAYS in a hurry, I mean my whole life is on speed-dial....I find it's easier to instantly spot the gems when I all can see is a sea of old tatty furniture.  It's a joyful scene!
My local favourites which, crucially, also have national outlets:
1) Emmaus 
This is a fab charity which originated in France in 1949, and now has shops all over the UK. Its basic premise is to house homeless people, whilst also giving them a meaningful job on-site, and creating a real community in which to live and work. Regardless of the branch, I find the staff to be amazingly helpful and enthusiastic.     
My nearest favourites are in Bolton, Mossley and Preston. The former two also have great cafes selling delish home-made cakes, sandwiches etc - all at amazingly low prices. Last time I was in Brighton, I visited its fab branch there...OMG...what a peach and what a great cafe!! To find your nearest outlet, go to https://www.emmaus.org.uk/
2) British Heart Foundation Furniture and Electical Shops
This is another firm favourite of mine, always worth a browse, as stock turns over super-fast, and therefore every visit is a potential win-win! There are branches all over the UK, and like Emmaus, they offer delivery and are super helpful. To find your nearest, go to: https://www.bhf.org.uk/about-us/find-bhf-near-you
3) The Red Cross Furniture & Electical shops
There are only a couple of these local to me, but a quick look online tells me there are branches which specialise in furniture all over the UK. Just visit the site to find your nearest.
http://www.redcross.org.uk/en/Get-involved/Our-shops/Our-specialist-shops/Furniture-and-electrical-charity-shops
4) Ebay / Gumtree / Preloved
I hardly ever buy pieces online, as I like to see them up close and personal! But I know that zillions of people are snapping up bargains daily on these sites, so far be it from me to tell you otherwise. Because I mostly buy pieces to up-cycle and sell, I'm super choosy about the condition of pieces, and also I can't be othered to arrange collection unless it's very local to me. If you're like me, just add the maximum distance you're prepared to travel from your location filter and stick to it!!!  
5) St Catherine's Hospice
This one isn't national, I'm afraid, but it has aroun
d 18 shops across the North West. Its Preston branch is particularly good. Fab volunteers (Dave - I hope you're reading this, mate) and lots of good stock to go at! For more info go to: https://www.stcatherines.co.uk/our-shops/
STOCK - What's HOT...and what's NOT?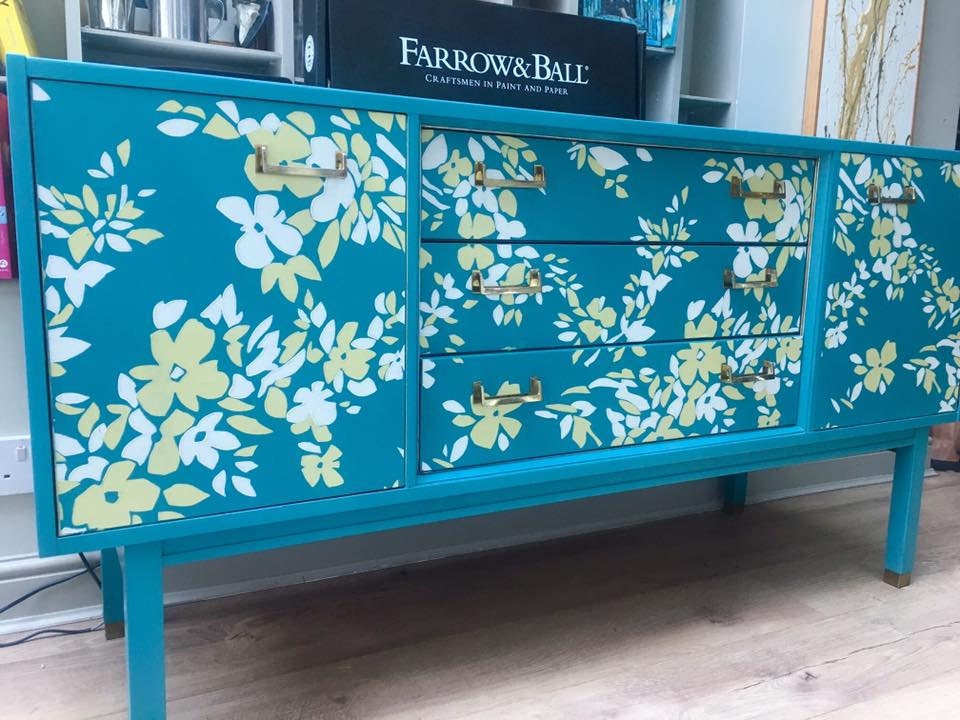 The G-Plan sideboard I sourced to up-cycle for the window of Farrow & Ball in Manchester. The paper design is from their new collection.  
I don't believe in the slavish following of trends in any aspect of my life...If there is a rule, I automatically want to break it. 'Twas ever thus!
I think most interior-savvy sourcers are well aware of the pervading lust for Mid-Century Modern pieces, with classic brands like G-Plan and Ercol still highly sought-after and therefore becoming increasingly expensive. 
Solid wood G-Plan style pieces discovered in mint condition, may just need a light rub down with fine grade sandpaper, followed by a coat of Danish oil. If you find one that is flawless - congratulations - it's a treat to behold!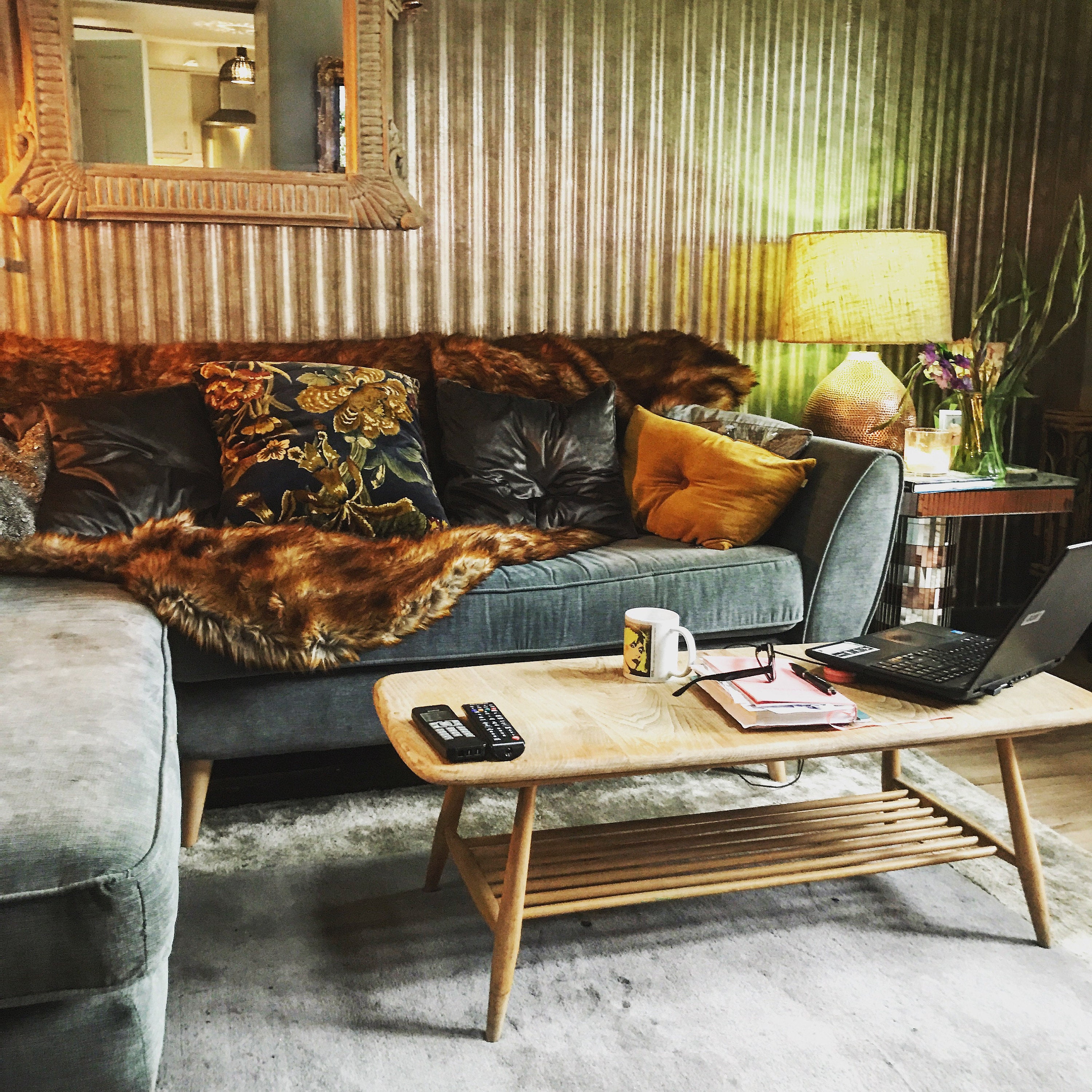 I found this solid beech wood coffee table at my local British Heart Foundation.  It was £15 and all it needed was a sand to erase some scratches and stains, followed by a gentle rub down with beeswax. 
It's ideal for my home, as it's light, slimline and easily spirited away when Archie is around! It's not so much a case of a bull in a china shop. He's skinny as a rake. Picture an over-excited baby giraffe staggering about on stilt-like legs, crashing randomly into anything that crosses its path. Permanent coffee tables placed centre stage are not practical in this damn house!!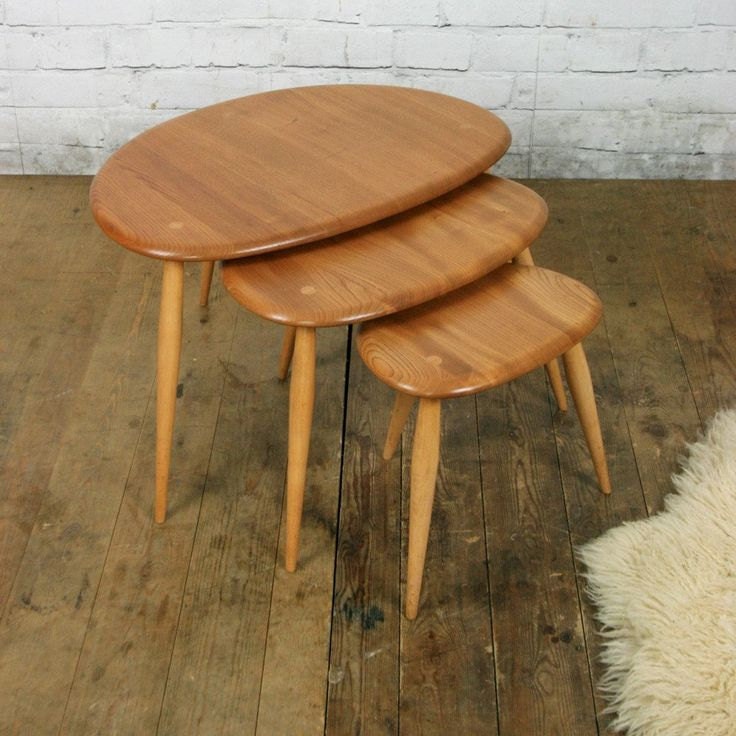 The nest of tables above is pretty fabulous...no pressing need for a dramatic revamp...the wood grain and depth of colour and finish is gorgeous. Why give the Emporor new clothes when he looks hot naked?...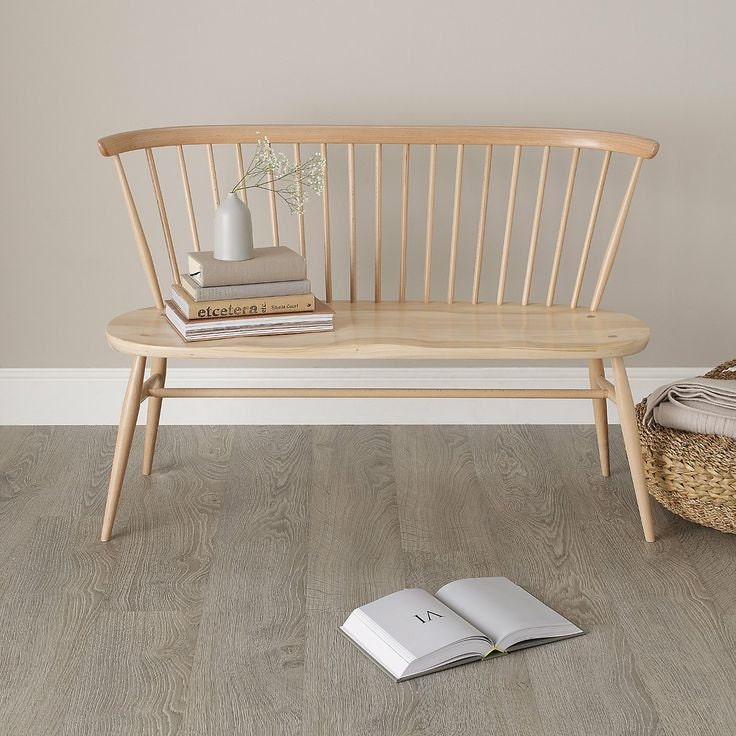 Simply gorgeous! if it were mine, I'd get a local upholsterer to make up some cosy padded seating...or maybe I'd just chuck an Icelandic sheepie or two on to it....
If, however, pieces are very damaged or veneered with something truly ugly, that's when the fun of up-cycling really kicks in! 
IMPORTANT TIP ALERT! Don't be afraid by the vision of a shiny melamine-coated piece. It can be painted or decoupaged - or both. Just look at the basic shape and its lines or curves. Try to picture the piece as a shape only. It's a blank canvas on which to project your own unique style and sense of aesthetic!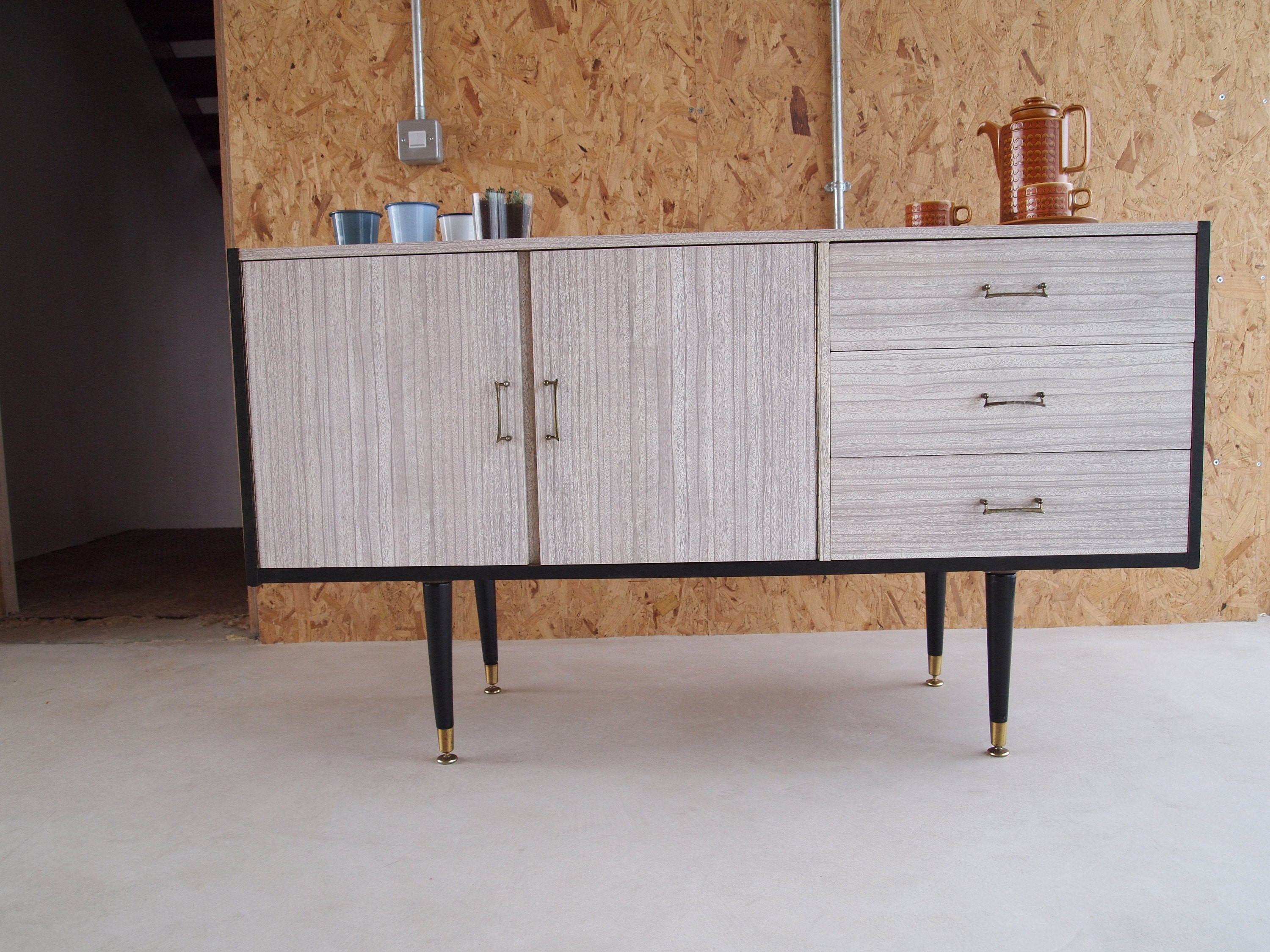 Formidable formica! Ignor the vomit-inducing melamine. This is perfect up-cycle fodder, thanks to its clean lines, smooth surface and funky tapered legs! Very easy to paint or decoupage. 
There's just one small caveat to that devil-may care attitide. If you live in a small space with limited room to mess-up, and / or don't feel like scraping off badly chipped veneer clinging to damp smelling wood..avoid the truly knackered ones. Err, like this...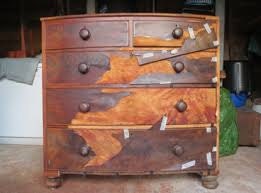 "What if it's not "Mid Century Modern"?
While I love snapping up this style of distinctive and fabulously retro furniture  - especially sideboards - I don't overlook pieces from other eras either.
There are three reasons for this:
1) I'm easily bored and I like to mix it up a bit with shapes and styles
2) The trend for Mid-Century Modern WILL eventually make way for something else. It's the cycle of life, of fashion, of art, of interiors...basically everything goes full-circle eventually
3) Less "fashionable" pieces are usually cheaper...
If you're making to sell, I admit it's wise to tap into what is coveted RIGHT NOW - but if you're making for yourself, or like me, you don't really care too much about commercial considerations because you're using it as free therapy - then go with any style or era that floats your boat.
I recently bought a rather massive mahogany veneered sideboard at my local Emmaus; it was basically a mock-Regency reject....noone wanted it.  REWIND! One look at those wonderful curves, flawless flat, finish and solid craftsmanship, and I knew it was a good buy. The mahogany veneer had to go, obvs...but I love the result after a couple of days' labour in my workshop!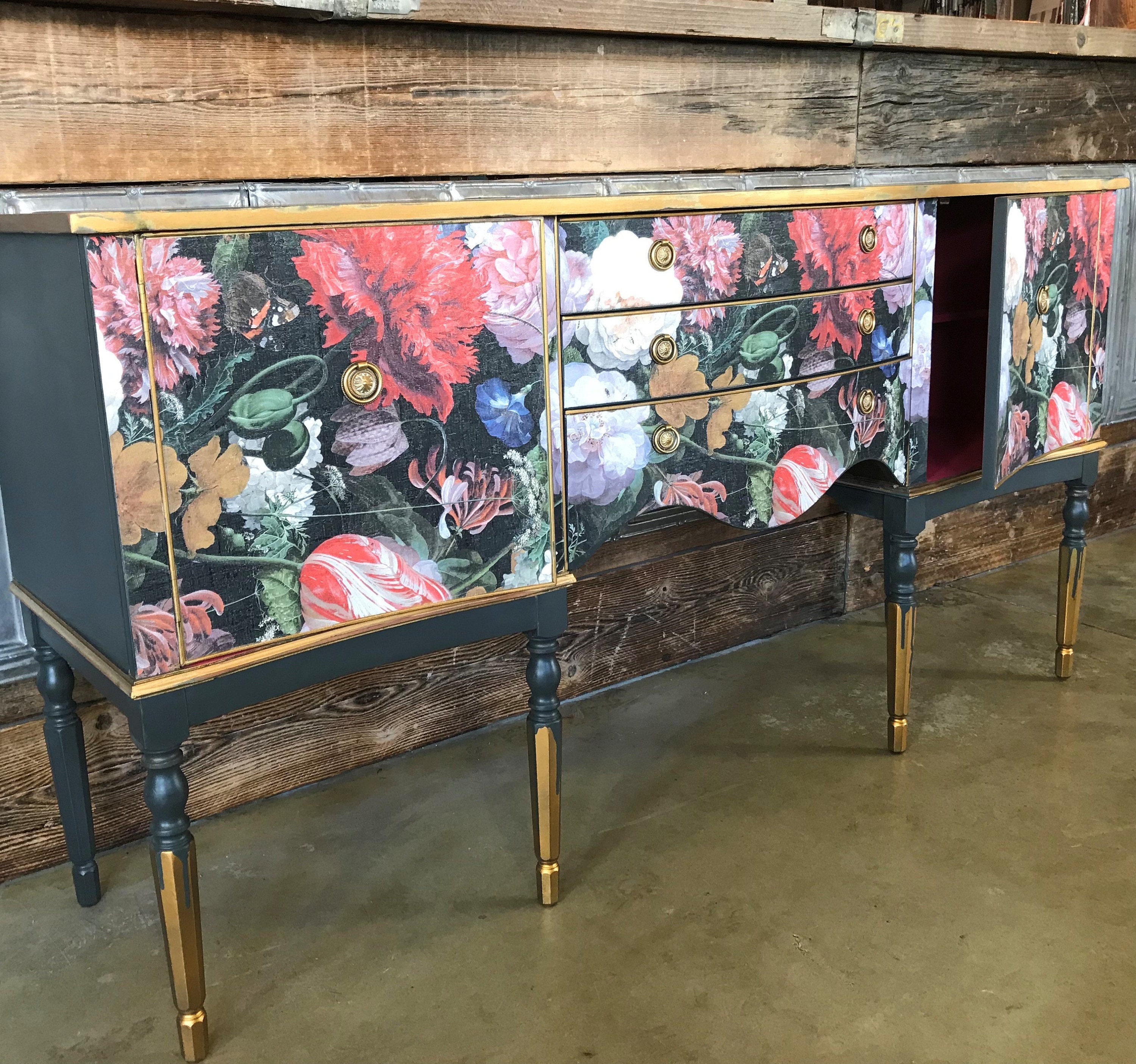 This piece above has been painted in charcoal eggshell by Valspar and decoupaged using fab Dutch designed paper discovered at my local Horwich Interiors. I like the dip-dye gilt painted legs for the sheer glamour and opulence, messed-up with paint drips,to give it an edge!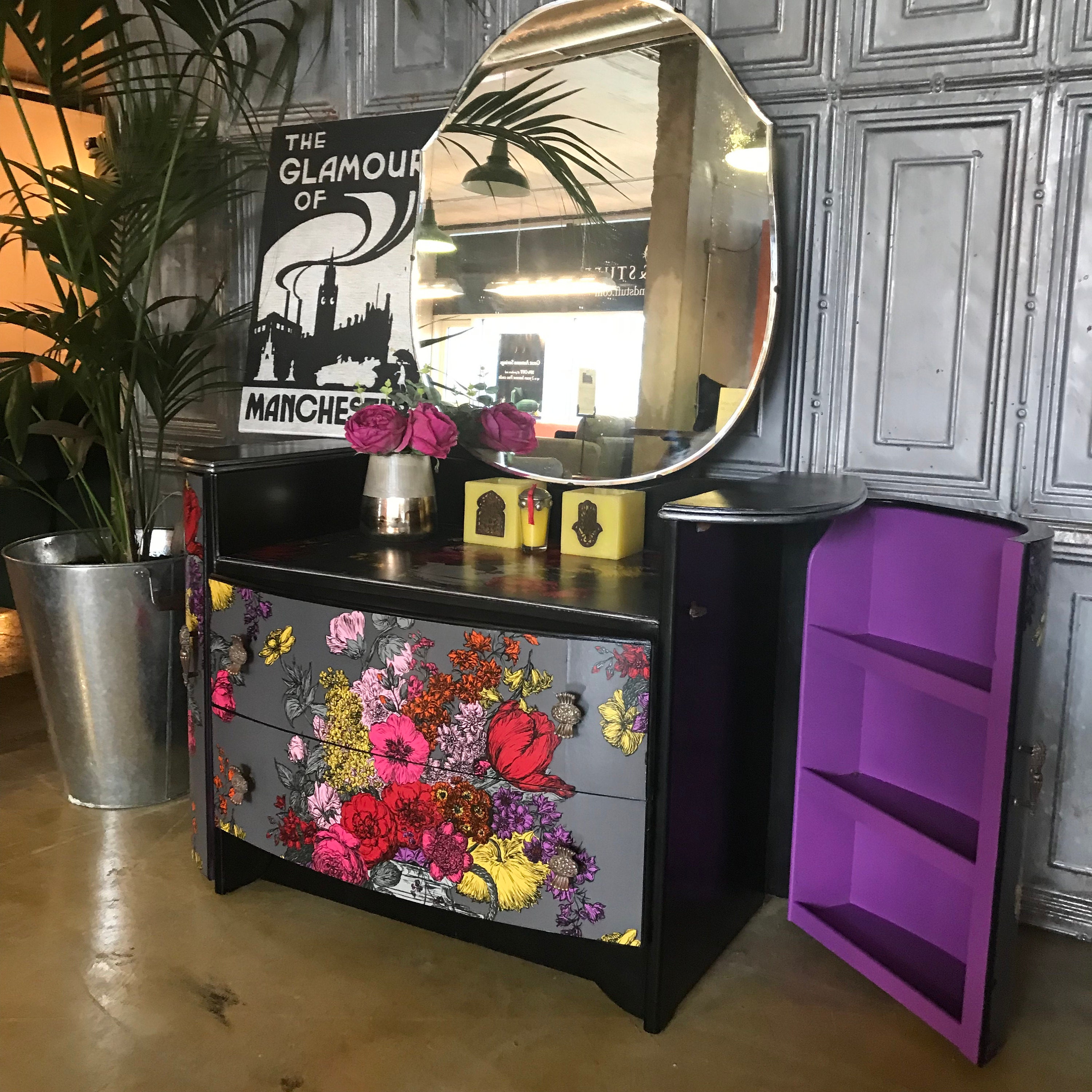 This fab Art Deco dressing table was a MUST buy...a rare find which has the loveliest curved side cabinets. The exterior woodwork was very damaged, so restoring the wood wasn't an option. If I'm honest, painting the interior of pieces is an added labour of love. I do it more and more because I'm mad and I love the colour pop!  If time is short and you just want a quick up-cycle project - AVOID!
So next time you find yourself browsing for vintage furniture, do keep an open mind! It's such a joy to snaffle something which your partner/girlfriend/mother tells you is beyond help, ugly or just plain offensive.  
Finally - I just want to add how enriching it is to discover a whole army of fabulous women (sorry men, I just haven't found you yet...) who are feeling empowered and frankly happier, thanks to creative up-cycling and a love of interiors. Let's keep indulging, supporting, experimenting, making mistakes, having a giggle, having a GO...and maybe... just maybe, creating the odd triumph along the way!  
Sarah x