From this...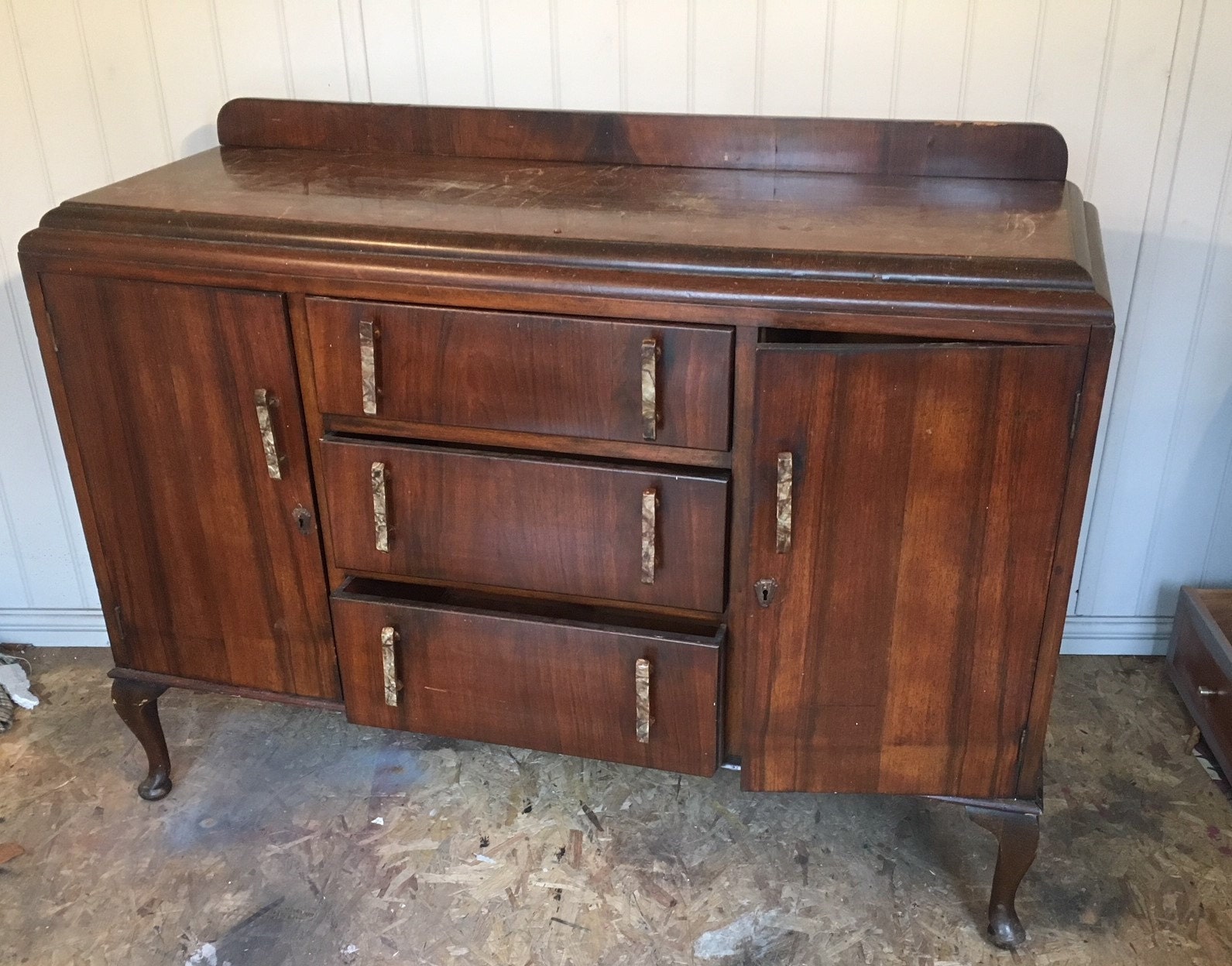 To this!...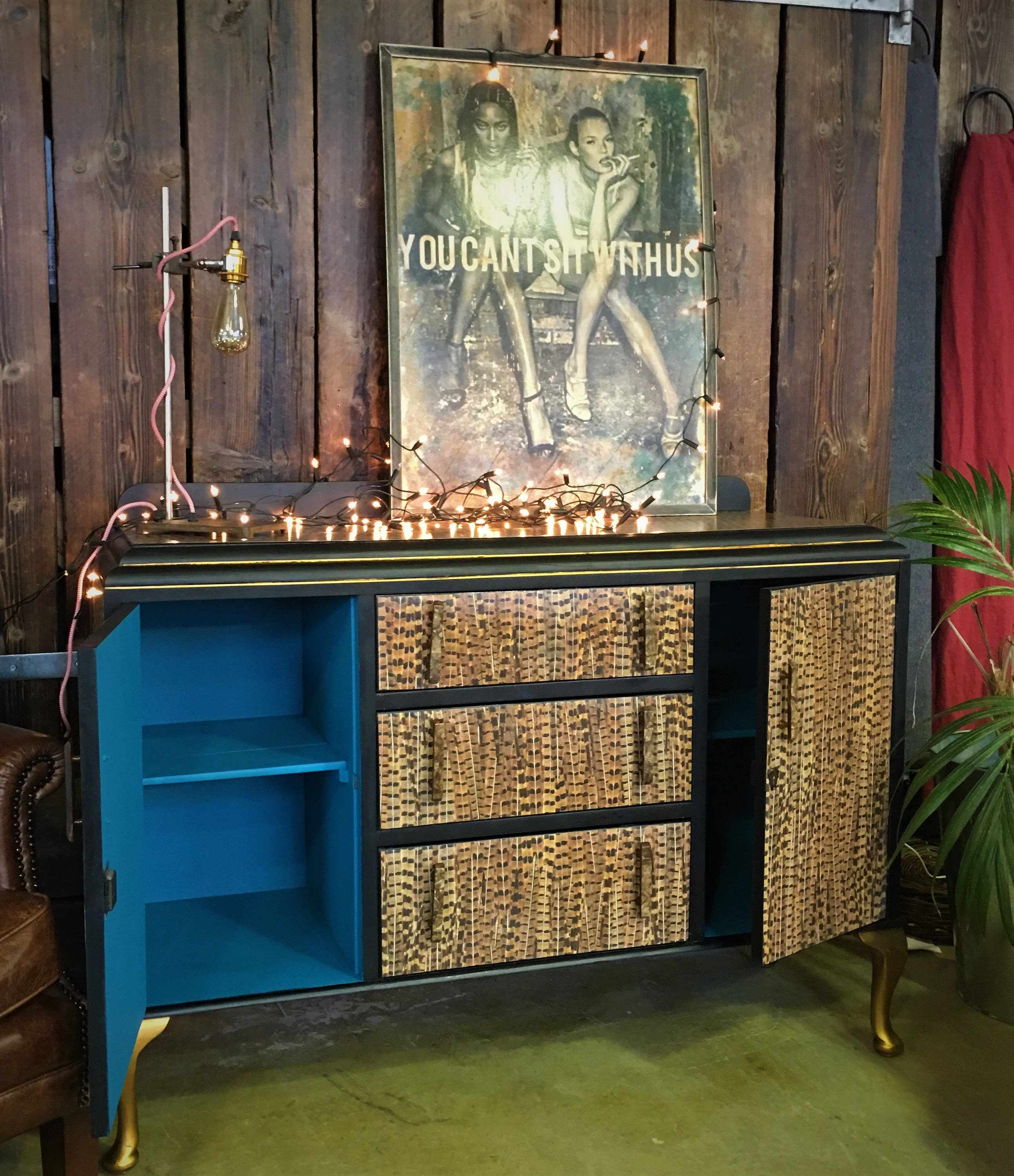 Want to know how to do it? Read on!...
When Emmaus UK invited me to get involved with its national Second Hand Santa Challenge, I jumped at the chance. As one of my all-time favourite charities, and the source of many of my most coveted vintage furniture finds, it is an absolute pleasure and privilege to be asked to collaborate. 
For those not familiar with Emmaus, and its unique approach to supporting homeless people, go to: www.emmaus.org.uk
I've long been a fan of revamping old furniture, using all sorts of techniques, but one of my absolute favourites is the medium of 'decoupage.' Decoupage orginated in France in the 17th Century and the word comes from Middle French decouper, meaning  "to cut out." Using paper - any paper more or less - decoupage is the process of sticking it on to a surface and then sealing it with a clear top coat or glaze.
For this challenge, I used wallpaper, and was delighted to be gifted a wonderful new paper called 'Pheasant', designed by fabulous interiors guru, Cowboy Kate for Lancashire wallpaper company, Woodchip & Magnolia. 
I call the process of re-imagining vintage furniture my "up-cyclatherapy." It's a made-up word, but its effects are tangible. I up-cycle to relax, and to help manage bouts of depression, which I developed after the birth of my first son, who was sadly born with brain damage and significant disabilities.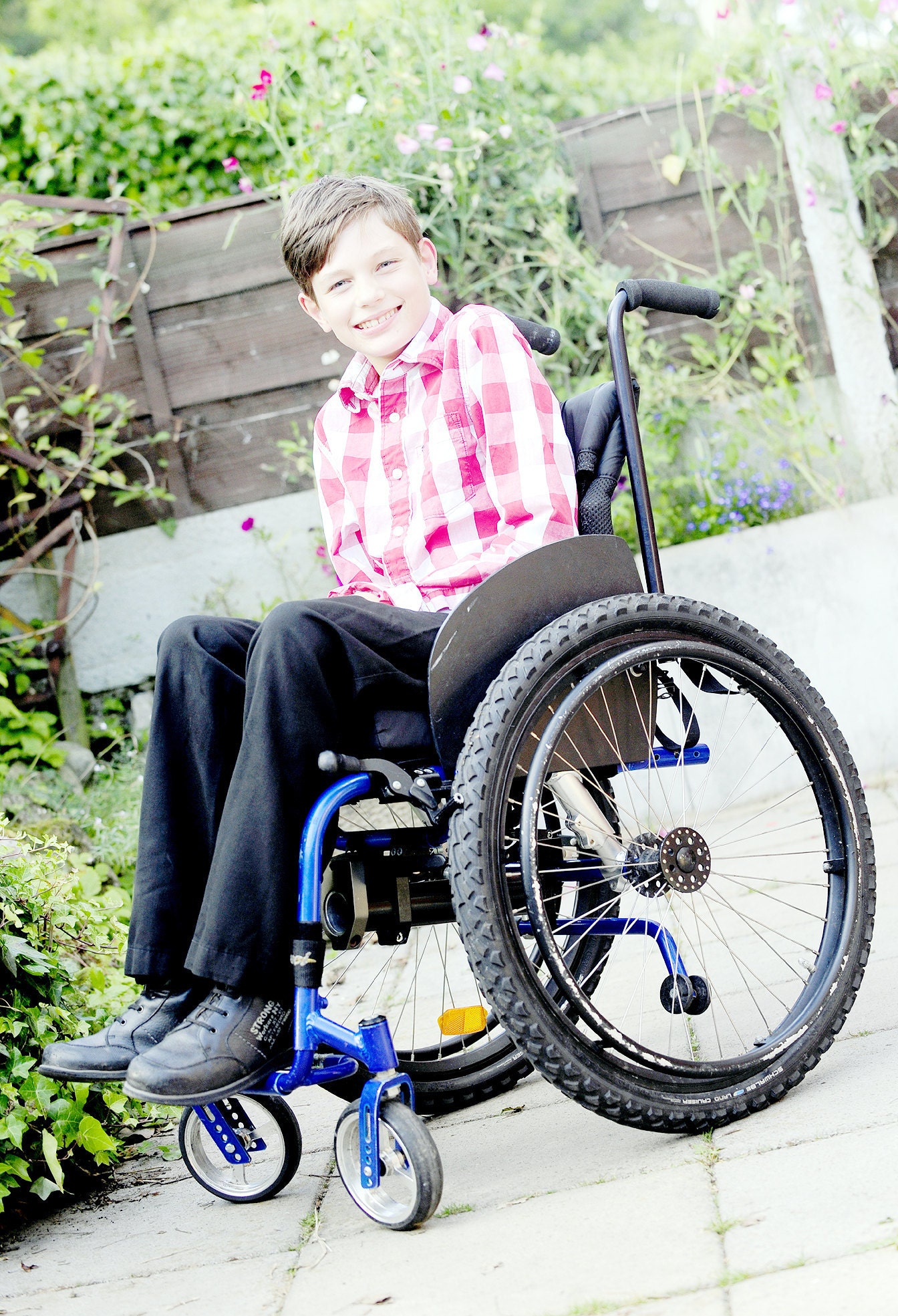 Archie is now 15, and as you can see, despite his disabilities, he's a gorgeous cheeky chappy! He's an absolute treasure, but he's quite hard work and his physical and emotional needs are significant. The stress that comes with parenting a special needs child has led me to seek new, creative ways to manage my mental wellbeing. 
For this piece, I visited the Emmaus Bolton branch and picked out a solid wood vintage sideboard with drawers, costing just £30. I'm guessing it's circa 1930s, but regardless of its age, I was instantly drawn to it. The shape, the legs, the basic bones of it were all great. OK, so the veneer was scratched to pieces and it wasn't "mid century modern" - but hell, it was solid as a rock and better-made than any damn piece of mass-produced, over-priced MDF masquerading as "premium" on the highstreet!
So now for the fun bit...the step-by-step process of transformation which I hope will inspire you to go out there and try it for yourself! Here's how i did it:
Tools and materials
Craft knife with very sharp blades.  
Good pair of large, sharp scissors
PVA Glue mixed with water (I use about 4 parts glue to 1 part water)
Soft sponge/brush
Tin of satin or gloss clear varnish. For this piece i used Johnstone's Interior Wood Varnish in Gloss
Wallpaper or other decoupage-friendly paper
Eggshell paint or spray
1) Remove handles and knobs. Do not lose! I usually keep original handles but replace them if you don't like them. I loved the handles on this piece so I just gave them a good soak in soapy water and buffed them up with a cloth.
2) PREP! 
This is the boring but absolutely necessary step. If you skip this part, everything will go wrong down the line. I've made the mistakes so you don't have to!
Sand: Before you can apply most kinds of paint to a piece like this, its surfaces need to be lightly abrased so that the paint will adhere to it. I use an electric orbital sander for speed and ease, but if you don't have one, traditional sanding sheets will suffice. Sand the entire surface, including all the crevices, the legs and the awkward bits! TIP: if you are using an electric sander, it will create masses of dust. Protect yourself and everything around you...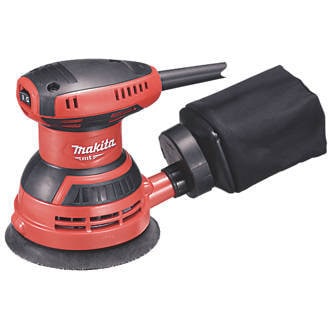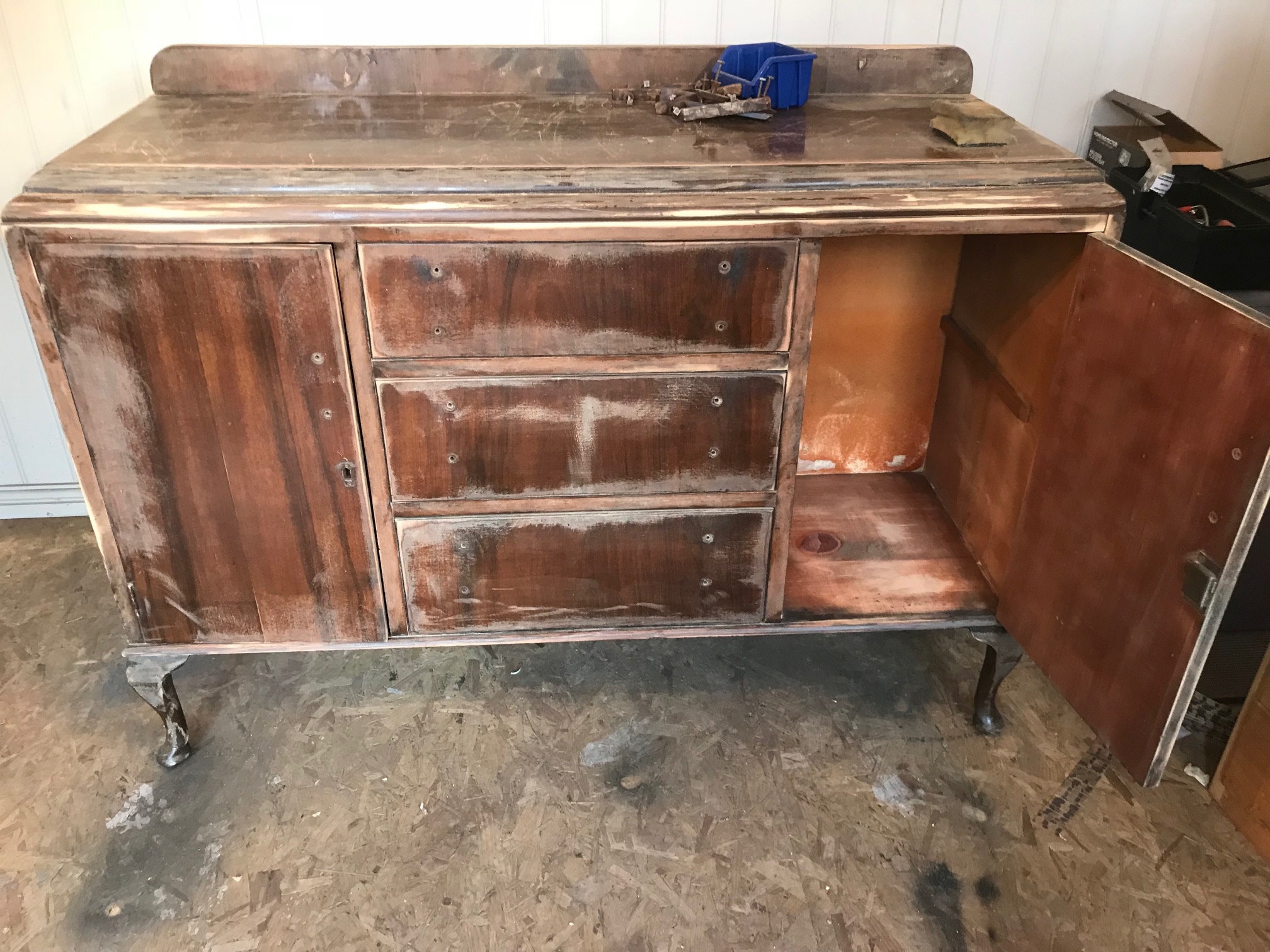 What a mess! She looks a bit tragic after sanding inside and out! No handles either...just BAD!
3) PRIME: Thoroughly wipe off the dusty residue from sanding, and get ready to prime. Some paints don't require a primer before application, but I like to use eggshell finishes or satin spray paints on my pieces, most of which do need the porosity of a primer if you want a really sleek, scratch-resistant finish.
If you're only painting small sections or you're in a giant hurry, you can use a spray primer such as Rustoleum Surface Primer, which is less labour-intensive and dries very quickly. 
4) PAINT! Once your primer has dried fully, you can apply your paint. For this piece, I used Rustoleum Satin Black spray, but for bigger surface areas, I use water-based eggshell paints. TIP: if you're using eggshell paint, apply with a mini roller for a smoother finish free of brush marks.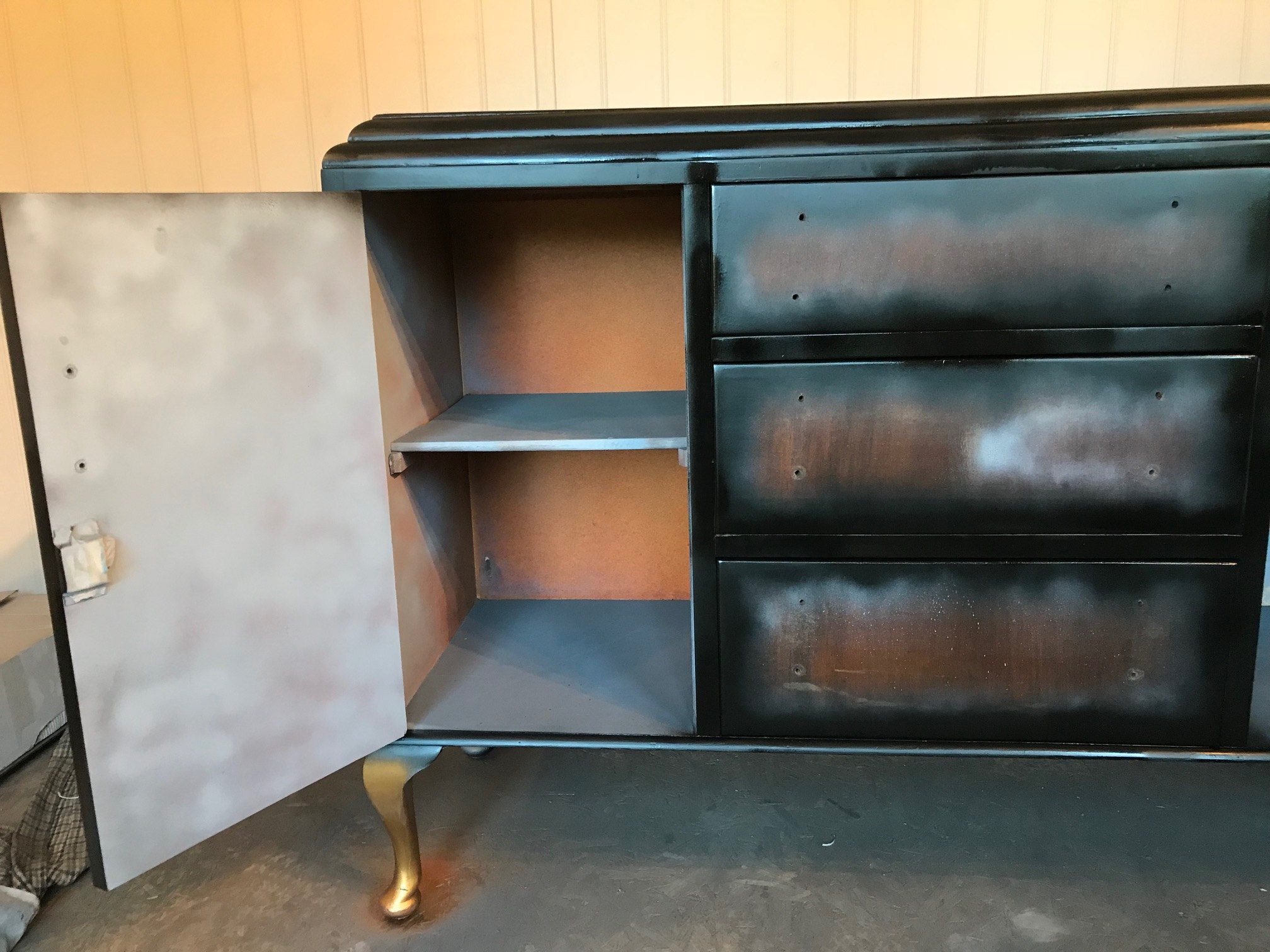 Primed inside and out with Rustoleum spray primer in Grey.  Once dry, I got going with the black spray paint on all the areas not being decoupaged.
TIP! I like to paint the interior of cabinets with a bright pop of colour, in which case, you need to prep and prime the inside too. It adds a bit of time to the project, though, so skip this part if you're short of time and patience!
Last but not least, I sprayed the legs on this piece gold using Rustoleum Painter's Touch spray. Love a bit of gilt glamour!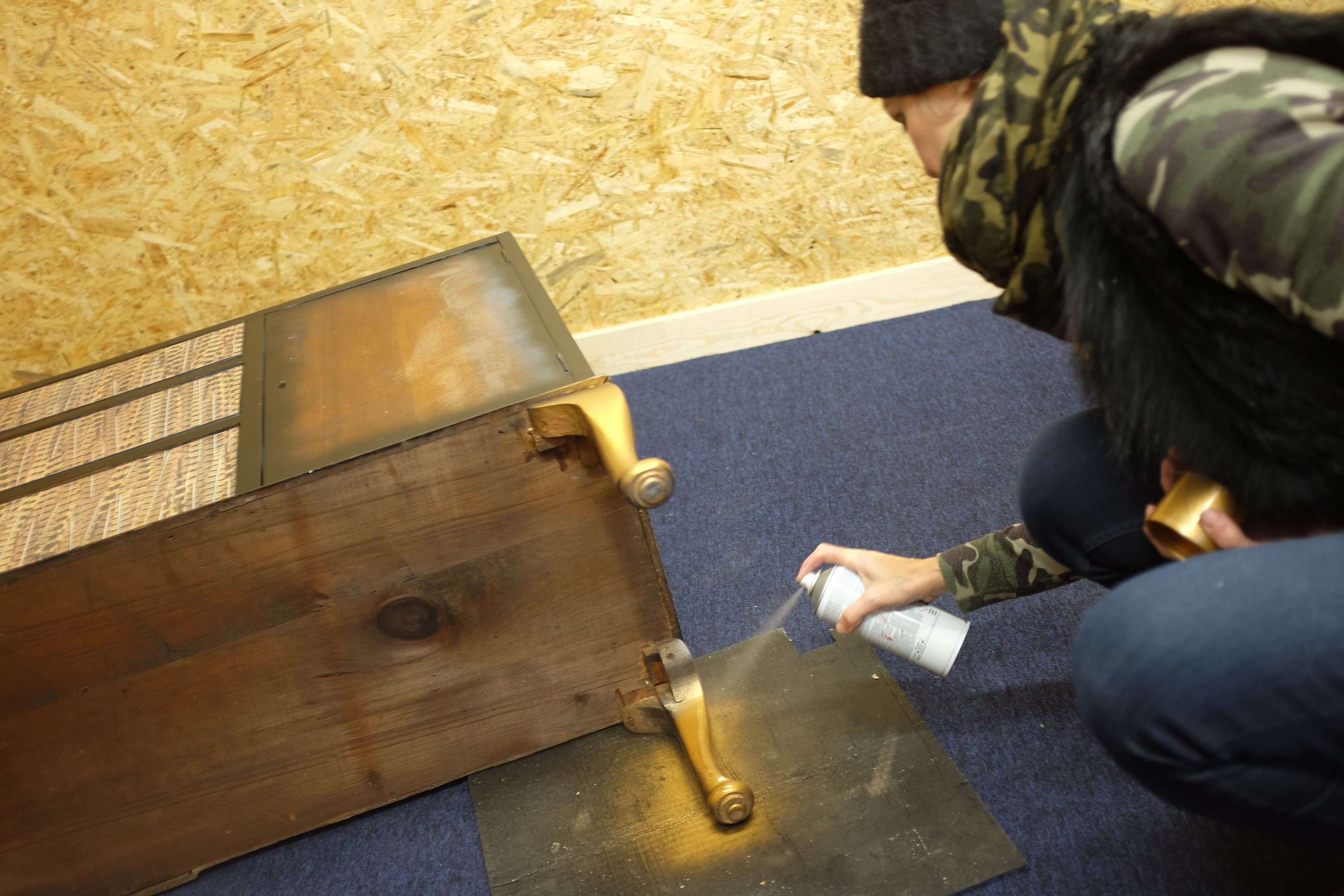 5) DECOUPAGE! Now, this is the properly fun part!...
Remove the drawers, if there are any, then lay the piece on its back before applying the paper. 
Starting with the drawers, there are two ways of doing this: For newbies, I'd recommend placing each one face down on to the paper, and cutting around them using a very sharp craft knife. If you're using a patterned paper, make sure you place the drawers on the paper in the right order - numbering them before (Left 1, Left 2 etc). It's then easier to match in/continue the pattern of the paper, almost like a jigsaw.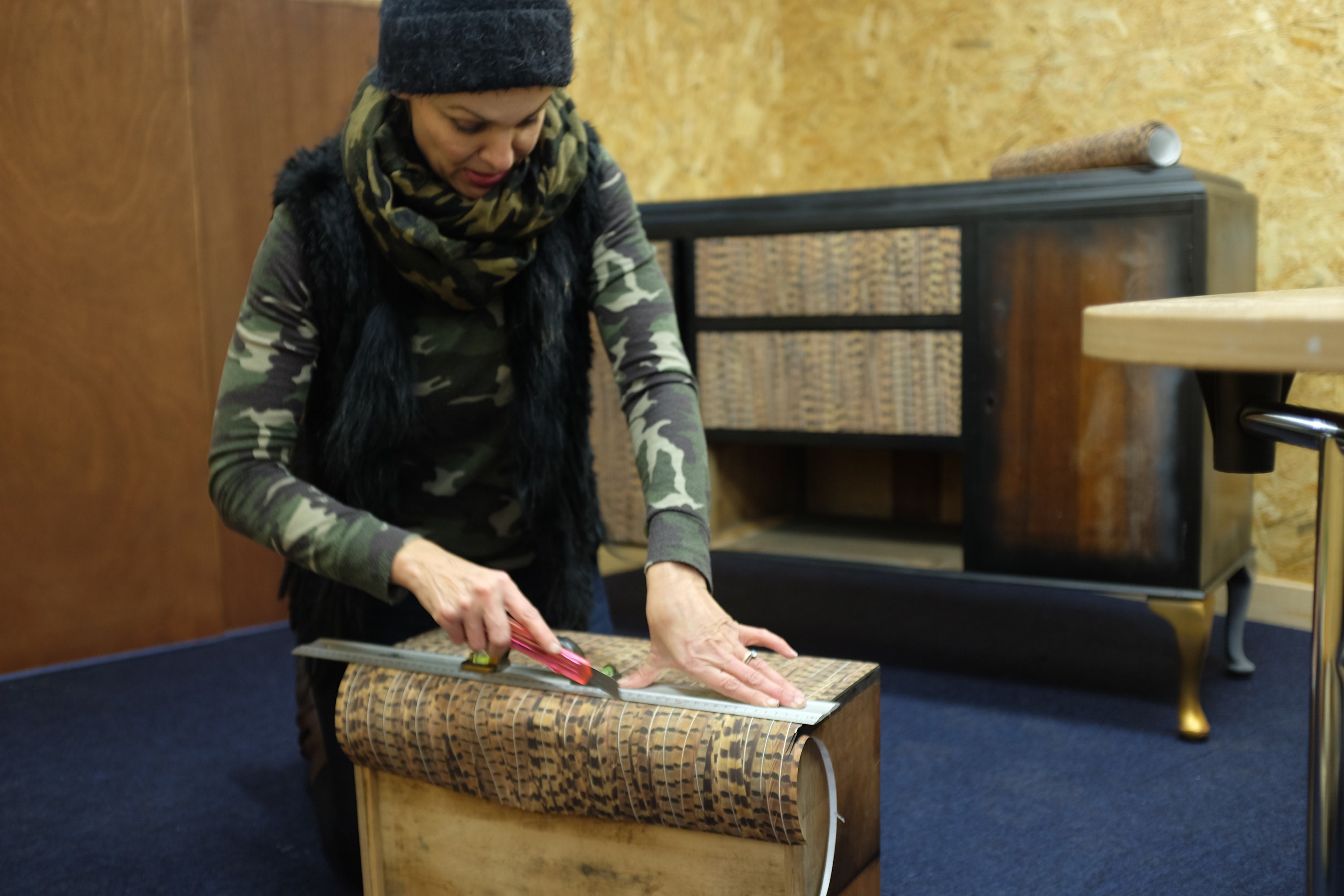 The other way of doing this - my preferred method - but one that takes a bit more confidence and practice - is to place the paper straight on to the drawer and simply cut to size as illustrated above. The only danger with this method is that if you're not careful, you can cut into the wood and damage it. Be careful people!
When each drawer template has been cut, paste them carefully on to the wood with the PVA / water solution using a paint brush.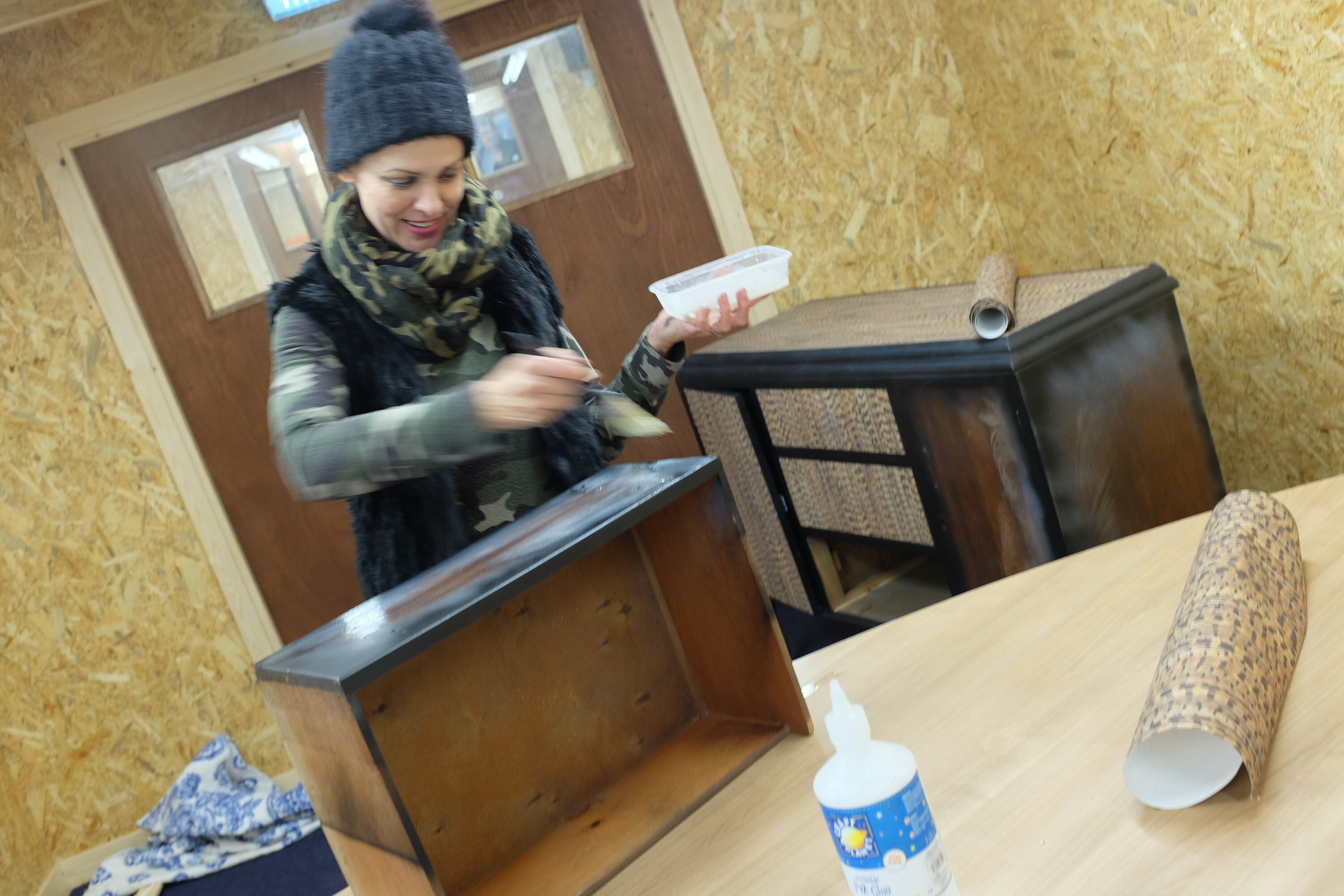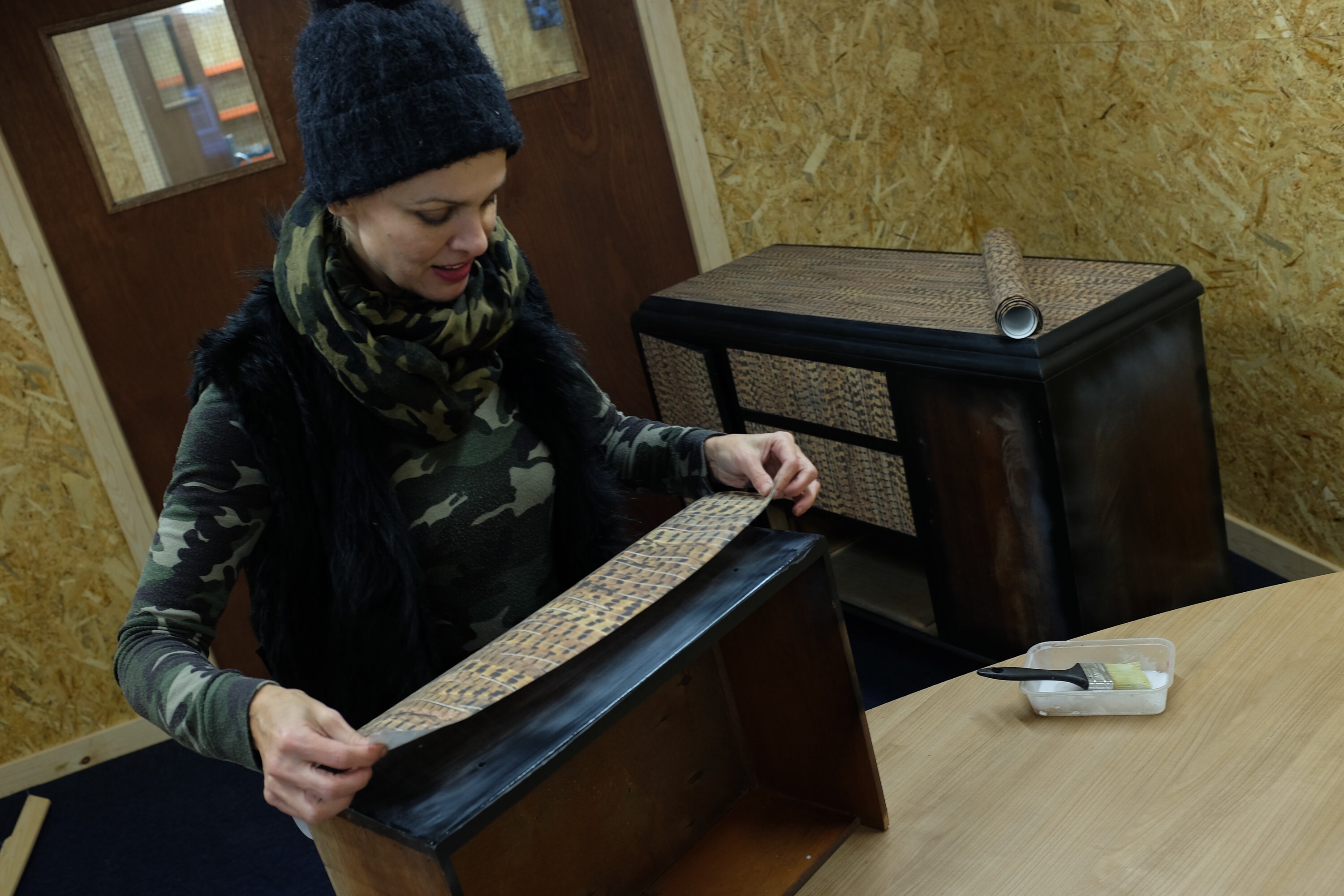 Next, take a clean sponge to smooth out the paper towards the edges, making sure there are no air bubbles or PVA paste lumps. 
For cabinet doors or other non-removeable surfaces, measure up and cut out a template using an old newspaper. Using the template, cut your wallpaper to size, before applying with the glue solution.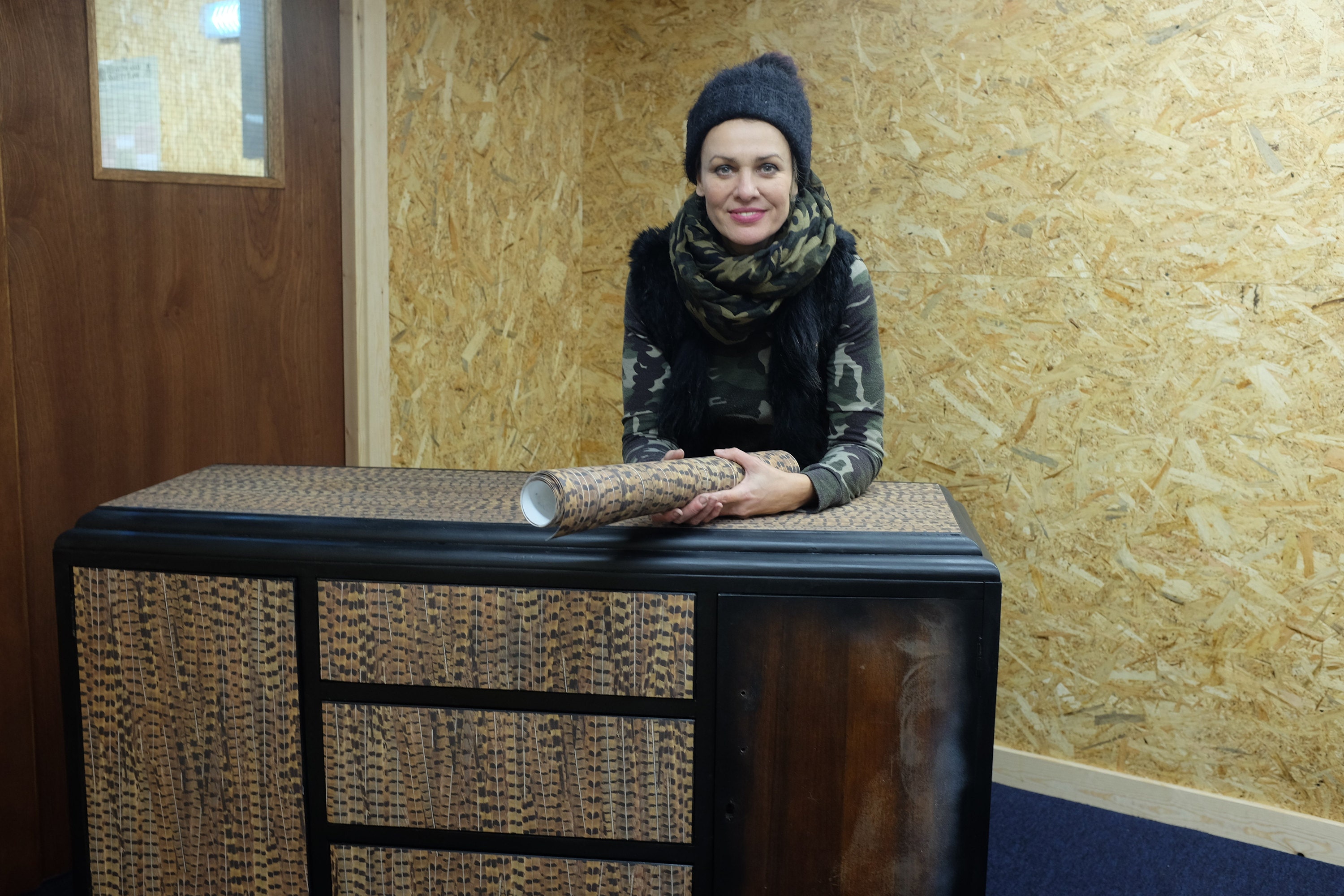 Nearly done! Excuse the bobble hat - it was blimmin freezing that day!
VARNISHING
Apply at least three coats of clear varnish using a soft paint brush, being careful to choose a brush which won't shed bristles. Make sure you allow each coat of varnish to dry thoroughly before re-coating. TIP! Water based varnishes dry faster than oil based products!
Once the varnish is completely dry, pop the handles back on and VOILA! your revamped piece of vintage furniture is ready for her close up!
Well, I do hope this post is helpful and will inspire you to try out your own furniture up-cycling projects. Many thanks again to my friends at Emmaus, for inviting me to share my tips and enthusiastically supporting my little creative venture! BIG LOVE!
Wishing everyone a very happy and peaceful Christmas.
Sarah xx
RelovedMCR
www.relovedmcr.com